The Canterburys - Christmas 2022
1997 1998 1999 2000 2001 2002 2003 2004 2005 2006 2007 2008 2009 2010 2011 2012 2013 2014 2015 2016 2017 2018 2019 2020 2021
Merry Christmas and Happy Holidays!
Life and society haven't returned completely to normal yet. But we're getting closer. I often reflect back on a book I read a couple of years, ago, The Great Influenza: The Story of the Deadliest Pandemic in History by John M. Barry. Among the many lessons of this book about the deadly flu epidemic of 1918 is that a pandemic doesn't suddenly end, but tapers off, never truly ending, but becoming less deadly until it falls beneath public notice. I hope that is where we are now on our path.
With a slight return to normalcy, we began the year with a visit to Biltmore. Masks were still required inside the Biltmore mansion but at least it was open for tours. We caught the end of the holiday season so got to see all of the Christmas decorations still in place.
<![if !vml]>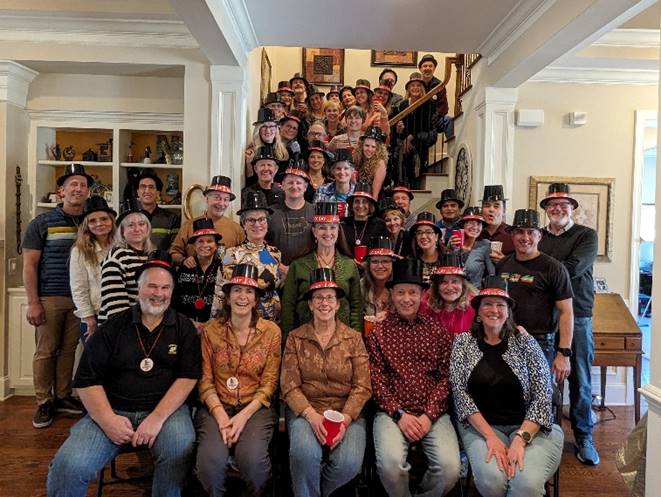 <![endif]><![if !vml]>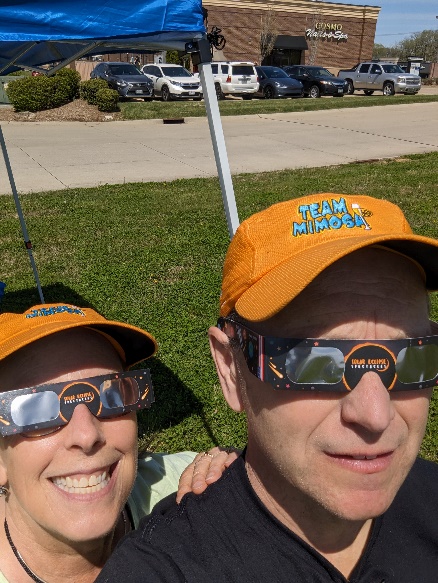 <![endif]>February brought the return of our annual Groundhog Day party, the 10th annual version of this event. We held it outside in 2021, so 2022 was the return of the indoor party for all of our vaccinated friends and was our largest event ever.
March saw us catching up on pandemic-delayed activities as we visited New York City for a Broadway-focused trip delayed from 2020. On the trip, we saw Hamilton, The Music Man (starring Hugh Jackman), and Come from Away (based on 9/11 flights to the U.S. diverted to Newfoundland, Canada). COVID restrictions were still in place: we had to show our vaccination cards to enter any establishment and wear masks when not eating – but were happy to do so.
In late May, we hosted Shan Riggs and Josh Grant. Shan was running along the length of the East Coast Greenway (ECG) from Key West to the Canadian border in Maine, while Josh was providing support by bicycle (so she rode her bike the entire way, an astounding feat in its own right). Shan and Josh spent the night at our home on their journey to raise funds in support of developing the entire ECG from Florida to Maine. We were happy to participate vicariously in their athletic endeavor.
Summer brought each of us a chance to experience something new. First, it was Nancy who came down with her first bout of COVID. She isolated herself on the second floor of our house for a couple of weeks, which worked well as Jerry didn't become ill.
In late July, Jerry, his friends, and 8500 other individuals participated in a week-long, 462-mile bike ride across Iowa. Starting at the western border, all these individuals cycle across the state, typically camping overnight in a small town before heading out the next morning to the next evening's destination. This was Jerry's third time completing this challenge and this year may have had the best weather, with low humidity, temperatures in the 70s, and no rain during the days of riding. Unfortunately, Jerry and a few of his friends brought souvenirs, as they came down with their own bouts of COVID upon returning home.
<![if !vml]>
<![endif]>Fortunately, Jerry recovered just in time to embark on their cruise to the High Arctic, beginning in Greenland and passing through the Northwest Passage of far northern Canada. The tour operator required everyone to be vaccinated, to test positive the day before the cruise began, and to wear a mask <![if !vml]>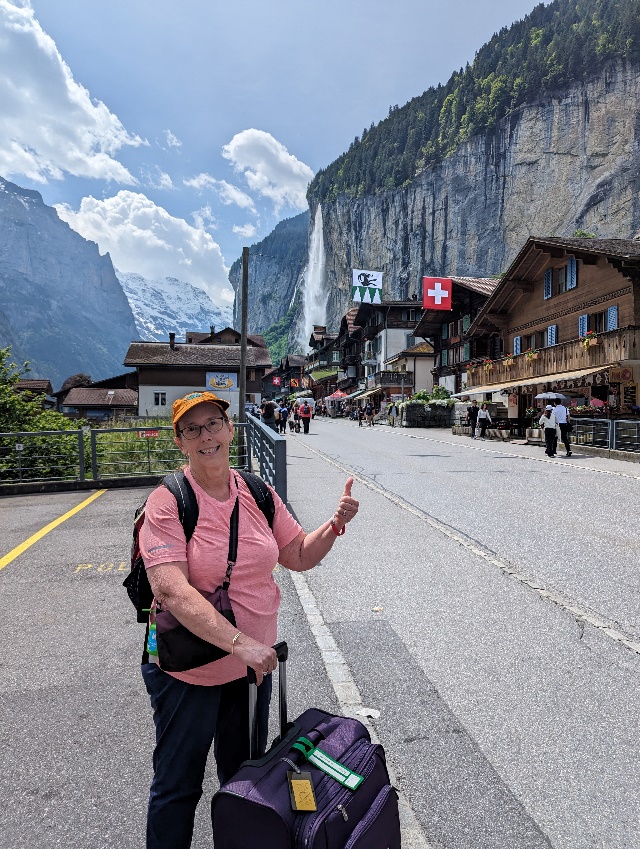 <![endif]>whenever in common areas of the ship. And when we say Jerry recovered just in time, we mean it: the staff confirmed he was the last person to have COVID before the trip, except for a few who tested positive and weren't permitted to board. Even with all these precautions, 15% of passengers and staff came down with COVID during the trip and were isolated in their cabins for 10 days as a result. Since we had both been vaccinated and boosted plus recently been ill with COVID, we felt fairly confident we wouldn't become ill again on this cruise, and didn't.
Once safely onboard the ship, we learned much of the history of exploration through the Arctic as well as of native peoples (we once called them Eskimos, but now they are known as Inuit). On the journey, we saw glaciers, icebergs, real polar bears, and near the end the aurora borealis (northern lights)! Jerry posted a travelogue on Facebook after our return if you'd like to see more about our Arctic adventure.
Once we arrived home in mid-September, we didn't have much time to rest. In mid-October, we left for a two-week swing through western national parks. We made plans to see Jerry's fitness coach participate in the World Triathlon Championship in St. George, Utah, but also planned adventures in Las Vegas, Death Valley, and Zion National Park along the way. We saw some great shows in Vegas and unexpectedly ran into Jerry's sister and niece while there but were happy to leave the crowds behind. Unfortunately, Nancy twisted her foot on the last day of hiking in Zion, resulting in a broken leg. Even so, Death Valley and Zion were amazing and we can't wait to return. Jerry posted a travelogue on Facebook after that trip as well, if you care to follow along.
We finished the year with a nearly-annual trip to New Smyrna Beach, Florida the week before Christmas. During this trip we also visited the Kennedy Space Center, seeing the retired space shuttle Atlantis and hearing a talk by astronaut Winston Scott.
<![if !vml]>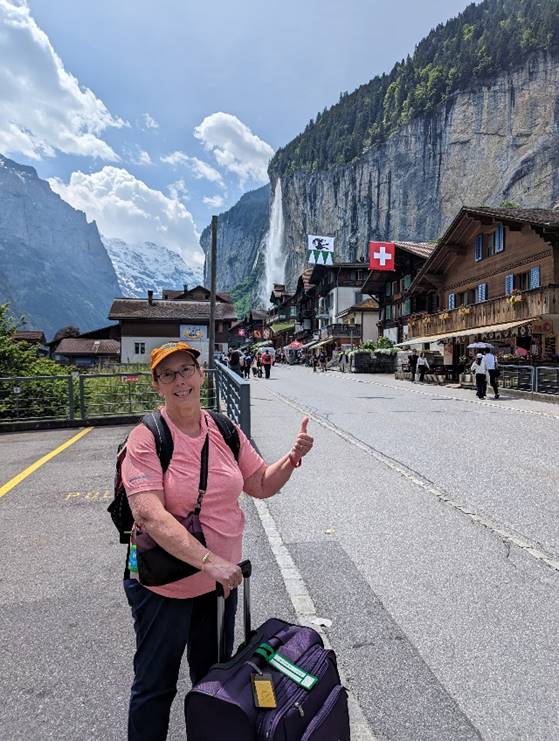 <![endif]>Around these adventures, we continued our regular activities at home. Nancy volunteers at Safe Haven for Cats, a local non-profit cat shelter; sings in three local choirs; and serves in leadership positions for both the Women's Club of Raleigh and TeamCBC, a local bicycling club. Jerry <![if !vml]>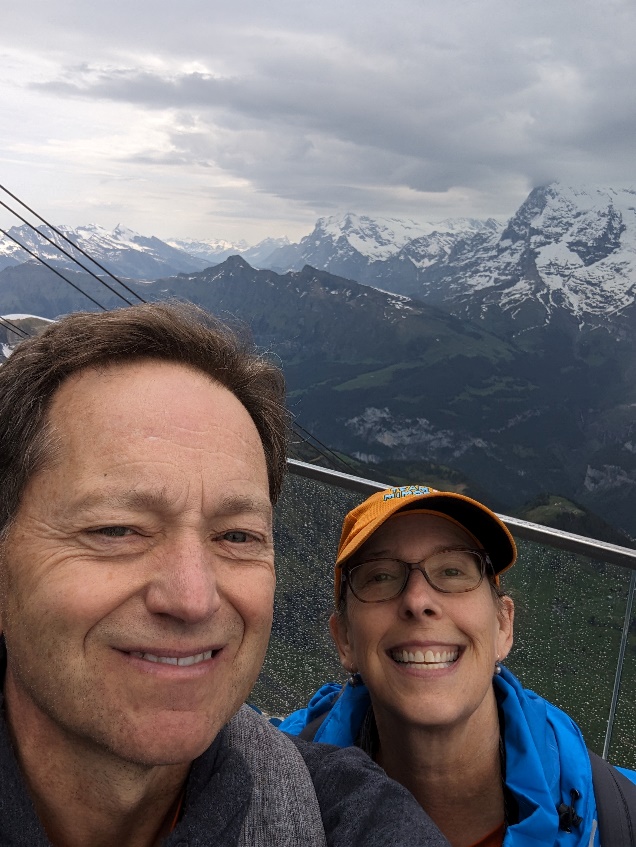 <![endif]>has continued his athletic activities of swimming, biking and running, and has also been learning to play piano for the past year.
Our three kitties remain in good health and you can see them here lining up in expectation of being fed. Spats (front) and Chaplin (middle) are brothers who have been with us for eight years and are about 10½ years old. Tiger has been with us for four years and is six years old.
Please hug all your friends and family this holiday season and tell them you love them! We wish you the happiness and joy you deserve this holiday season!
Nancy and Jerry Canterbury
https://www.facebook.com/jerrylcanterbury
https://www.facebook.com/nancy.canterbury