Merry Christmas and Happy Holidays to all!
2001 has been a year like no other before it.  Hopefully there will never be another like it in terms of tragedy.  We have friends in both New York and Washington and thankfully all have checked in with us.  However, some of those friends have lost friends of their own, and we grieve with them.  For us, hardly a week goes by without a catch in the throat, a sob stopped short.  Time heals all wounds, they say – but large wounds take more time.
On a more personal level, all continues to be well in the Canterbury household.  Nancy is a project administrator at Key Bank now, which means that she assists with tracking and running a number of different projects at one time.  I think she has found her niche, because she's very organized and she can help others be organized too.  I'm still at PricewaterhouseCoopers, and still working on a project in Bloomington, Illinois, where I've been since March 1999.  Travel itself has become more painful due to heightened security – longer lines, longer hassles, fewer flights to choose from.  But, although I know some now fear flying, I still know it to be very safe and really have no fear of getting on a plane each week.
<![if !vml]>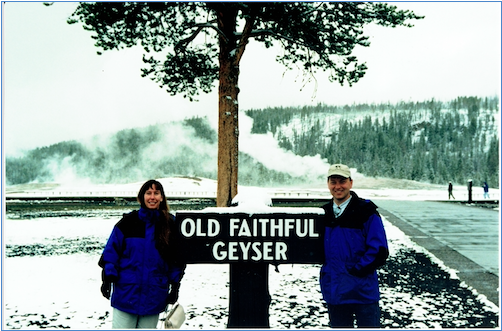 <![endif]> Our travel year has been quite busy once again.  We began with a driving trip to Philadelphia last Christmas.  We went to visit both Nancy's brother and his family, and my sister and her family in their new home.  From there we drove to North Carolina to visit Biltmore Estate.  We found Biltmore to be an interesting place to visit for a day or so, but wouldn't want to make a week of it.  On an April weekend we visited New York City, where we visited the Statue of Liberty, Ellis Island, Grand Central Station, and Grant's Tomb.  We also saw a Broadway musical, The Music Man, which was one of the most enjoyable events of my life.  (We saw it again when they came to Cleveland in October.)  We paid a visit to Florida in September, visiting Tampa, Orlando, and Jacksonville.  If you are ever at Disney, you should definitely stop to see Cirque du Soleil, absolutely wonderful.
Our big trip to the year was supposed to be China, but I convinced Nancy that we needed to see Yellowstone instead.  One of the first books I can remember as a youngster was a children's guide to Yellowstone.  Since then I've always wanted to visit.
We flew into Bozeman, Montana and visited a friend there first, then drove on to Old Faithful.  Usually on vacation you don't plan on snow in June.  When you visit Yellowstone you should, as we learned after we arrived.  Some parts of the park road received a foot of snow and were closed.  Nancy was a real trouper, though.  Her attitude was "Darn it, we came to hike and see nature, so that's what we're going to do."  So off into the backcountry for a seven-mile hike we went.  Fortunately as the week went on the weather got better, eventually reaching the 80s.
One day we hiked up a mountain to see a petrified forest.  When we got back to the parking lot, a couple approached us and asked, "Did you see the bear when you were up there?  We could see both you and the bear, you were only about 100 yards part."  Of course, we never saw the bear – that was probably a good thing.
We also visited nearly Grand Teton National Park and stayed at Jackson Lodge, which has an absolutely gorgeous view.  While hiking there, I looked over my shoulder when I heard a noise and saw a moose about 10 yards away.  You know, you'd be surprised how fast you can move when you've got a moose right behind you.
We're already making our vacation plans for next year.  We will spend Christmas in Florida.  In 2002 we plan to visit New Zealand.  My brother starts medical school in Australia in February; we'll give him a little time to settle in and then probably visit him the following year.
One other accomplishment was the day I set out to run 26.2 miles and succeeded.  I trained spring, summer, and fall, and completed my first marathon in October.  I owe a very special thanks to Nancy who supported me and literally carried my water while riding her bike behind me on the long training runs.
Our two feline friends, Brutus and Snickers, continue to be healthy.  Despite our best efforts, Brutus remains fat, weighing in at 19 pounds.  Snickers decided that it is in her best interests not to bite anyone this year, for which we remain grateful.
If you have the opportunity, we hope you'll come visit us in 2002!  Merry Christmas and Happy New Year!
Nancy and Jerry Canterbury