<![if !vml]>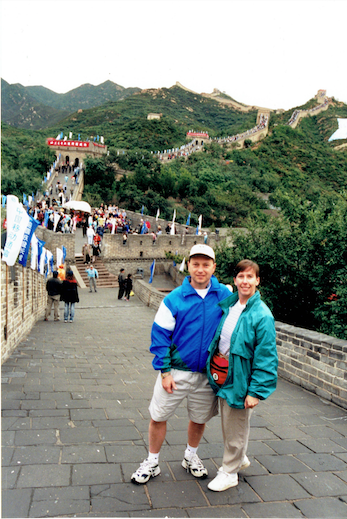 <![endif]>Christmas 2002
Welcome again to another Christmas missive from the Canterburys!
Those of you who have been following along from year to year will undoubtedly note that this is our 5th Christmas in Twinsburg.  We have a running joke at our house, that since we have moved every five years so far, we're about due to move again.  And, about once a year, something comes up that makes us think about whether we should start packing the boxes and calling the moving company.  But as things stand right now we're settled in for a while, and may actually break the record for length of stay in one location (5½ years in Virginia).  We enjoy the peace and quiet of our neighborhood, where the loudest noises we hear are the frustrated golfers on the course behind our home, and we enjoy the amenities of the nearby Cuyahoga Valley National Park.  If we could actually leave for the 2-3 months of winter every year, life would be darn near perfect!
On the career front, things are progressing well.  Nancy is about to complete her 5th year at Key Bank, where she continues to serve as a Project Coordinator.  She also advanced to serving as a Project Manager in some cases, a big positive step for her.  She is very organized and committed, and everyone agrees she'll be successful in this new role.
For me, things have changed a bit but largely remained the same.  Most of you have probably heard about the Enron/Arthur Anderson accounting debacle by now, and the appearance of a conflict of interest caused by auditing firms doing consulting work.  Well, since 1998 I've worked for an auditing firm (PricewaterhouseCoopers) doing consulting work.  PwC had been looking to sell or spin off the consulting business for a period of time when the Enron scandal hit, and that just accelerated the process.  IBM agreed to purchase the consulting unit, so in October I became an employee of IBM.  Those of you have kept the Christmas letters from the mid-1990s can refer back and see that I actually worked for IBM (as a contractor, not an employee) back then, so I'm pretty excited about the potential this change brings.  However it's still early in the process, and the only thing that has changed so far is the name at the top of my paycheck.
In other news, Nancy decided that this year was the year she was going to make a serious commitment to her bicycle.  She has legs of steel and can ride forever – assuming the bike seat is soft enough.  After working up to it all summer, she rode in her first long distance ride, the Hancock Metric Hundred in northwest Ohio.  It's called the Metric Hundred because it is over 100 kilometers (65 miles).  She did great and really enjoyed herself.  She is already talking about the long rides she is going to do next summer, and the new bicycle she's getting for Christmas.
We've had a very busy vacation schedule this year.
We spent Christmas in Florida last year and will do so again this year, staying at our timeshare in New Smyrna Beach.

We're also heading to Arizona for the Fiesta Bowl where Ohio State will face their opponent in the national championship game (Go Bucks!).

In March we spent a week in Puerto Rico to celebrate our 15th anniversary.

 

We found some interesting historical spots in Old San Juan and stayed at a very interesting inn called Casa Cubuy, located in a rainforest.
For Memorial Day I gave Nancy a "surprise weekend", where she didn't know where she is going until she got to the airport.

 

In this case we flew to Marquette on the Upper Peninsula of Michigan, where we stayed in an old lighthouse on Lake Superior that had been converted into a bed-and-breakfast.

 

The weather was interesting there, as it was 76º the day we arrived, with snow flurries and a high of 47º the next day.
For the Fourth of July we flew to Philadelphia, where we visited Nancy's brother Warren and his family, and my sister Barb and her family.

 

We also spent some time seeing the historic sites downtown, although due to security concerns the lines for Independence Hall and the Liberty Bell were impossibly long.
By far the biggest trip of the year was our two weeks in China.

 

We spent four days on a river cruise on the Yangtze and through the Three Gorges, which will be flooded next year when China completes the world's largest dam there.

 

We also visited Beijing and the nearby Great Wall, Shanghai, and Xian, where we saw the famous terracotta warriors.

 

The warriors, thousands of them, were molded from clay by decree of the Chinese emperor, and buried with him to protect him in the afterlife about 3000 years ago.

 

We have pictures for this trip on the Internet at
http://community.webshots.com/user/jerrycanterbury.
Our two cats Brutus and Snickers continue to be fat and sassy.  We've also somewhat adopted an outdoor cat that we've named Tux.  Tux knows where to find a free meal, so he stops by often.  Brutus and Snickers are curious about Tux, but not so curious that they want him living inside the house, so we'll stick with this arrangement.
And finally, a postscript to last year:  If you refer to last year's letter – go ahead, I'll wait while you get it – you'll recall that I completed my first (and so far only) marathon in October of 2001.  I remember the day well, with the turning leaves showing a spectrum of colors on an otherwise gray day.  At the time, I'd been experiencing pain in my lower leg ("shin splints" for you runners) for a couple months leading up to the marathon.  However, since I had done all that training and preparation, I wasn't going to slow down or miss the marathon.  After the race, I stopped running in order to recover, but the pain wouldn't go away.  After a couple visits to doctors and some x-rays and other tests, the diagnosis was in.  I had a stress fracture in my lower leg.  Now the stress fracture wasn't that big a deal, I didn't need a cast or any such thing.  I just needed to rest my leg long enough to let the fracture heal, which meant no running for a period of time (it was May before I could run again).  However, the best part of the ordeal is that I can honestly tell people that I ran a marathon with a broken leg.
Merry Christmas!
Nancy and Jerry Canterbury