<![if !vml]>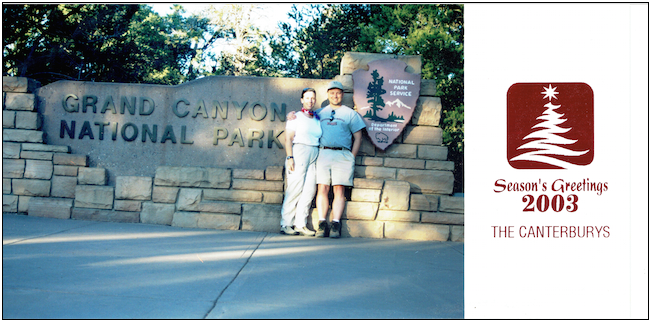 <![endif]>Christmas 2003
Hello one and all!  Merry Christmas, Happy Hanukkah, a Joyous Festivus, and a Happy New Year to all!  We hope your year has been a good one.  Nancy and I have been busy once again this year with both work and play.
The year started off with an unplanned "double vacation".  We had already planned to spend Christmas 2002 at our timeshare in New Smyrna Beach, Florida.  Suddenly Ohio State beat Michigan and earned a bid to the BCS national championship game.  (That's college football, for those unfamiliar.)  So, Nancy and I flew to Florida for a week on the beach, jetted home for a day of work and laundry then flew back out to Phoenix, Arizona for the Fiesta Bowl on January 3.  OSU won the game 31-24 in double overtime, arguably the most exciting college football game ever played.  (Personally, my feet didn't touch the ground for two months after that.)  The weekend after the game, we met up with my college friends Rod and Renée and visited Sedona together.  This is a very scenic area that you've probably seen on TV.  We did some hiking and took a hot air balloon ride with our friends.
This July we undertook a more unique experience.  We traveled to Nova Scotia, Canada for a bicycling vacation.  We biked for 30-50 miles each day, spending the evening in a different bed-and-breakfast or inn.  This was intended to be a group tour, but no one else signed up with the tour company.  Instead of canceling the tour, the company gave the tour for just the two of us.  The countryside was beautiful, the city of Halifax was great (we recommend the Maritime Museum and the Citadel) and the people were all wonderful.
While we're on a cycling theme, Nancy and I both completed the MS 150 Pedal to the Point ride this August.  In this fundraiser, you ride 75 miles from Cleveland to Cedar Point amusement park on Saturday then ride back on Sunday.  Many people go to Cedar Point for the evening after they arrive then spend the night sleeping on a high school gymnasium floor or in a tent (if they sleep at all).  We opted to head right to the Holiday Inn where we quickly crashed.  It was two long days in a row but quite an accomplishment.
Our other big vacation this year was to northern Arizona and the Grand Canyon.  This was intended to be a family vacation with my parents and two of our nieces where we would take the mule ride down to the bottom of the canyon one day and back up the next.  However, about three weeks before we were due to leave we got word that the mule rides were canceled due to the need to do trail maintenance.  Although the others decided to wait for another time, Nancy and I went ahead with the trip, and had a great time.  We visited a cornucopia of parks and attractions, including Petrified Forest, Canyon de Chelly, Monument Valley, Sunset Crater, Meteor Crater, and Walnut Canyon.  We stood on a corner in Winslow, Arizona – it was such a fine sight to see.  We got our kicks on Route 66 and stood in four states at one time in Four Corners, USA.  We hiked three miles into the Grand Canyon; when we turned to hike back, it was a 2000-foot climb back up.  All in all, it was an excellent trip.
We had a few other trips this year as well:
In February we drove to

Punxsutawney

,

Pennsylvania

for the Groundhog Day festival, where we saw the groundhog and he saw his shadow.
In March for our 16th anniversary we spent a few days in

Las Vegas

with our friends Choo and Karensa, where we saw comedienne Rita Rudner and the Blue Man Group.

 

(We saw the Blue Man Group again when they came to

Cleveland

on tour.)
In June we drove to

Toronto

where we saw "The Lion King" musical on stage.
In November we flew to

Orlando

to spend a weekend at Disney with some friends and co-workers.
Our careers have also been rewarding this year.  Nancy was promoted from project administrator to project manager at Key Bank this April.  It's definitely a positive recognition of her skills.  She has 3-4 projects that she's responsible for at any one time.  She's well-thought-of by everyone she works with and is doing great.
For me, after four years on the road traveling to the same client in Illinois week after week, I finished up my time there in April.  My commute now is much shorter, from the bedroom upstairs to the office downstairs.  The project I'm on now allows me to work from home, which is a definite improvement from traveling all the time.  I've had two one-day business trips since April and that's it.
Another bonus in my career is that IBM has decided to enroll me in their customized executive MBA degree program at the University of Georgia.  Every three months, I and about 45 IBM colleagues travel to campus in Athens, Georgia from all over the US and Canada for a week of classes.  During the rest of the time we study from home, watching video lectures and doing group projects over the phone and Internet.  I will finish in 2005.
We have found a new volunteer activity for ourselves.  Cuyahoga Valley National Park is just a few miles away and we spend a lot of time there already either hiking or cycling.  After training this summer we began volunteering on weekends staffing the visitor center in the park.  We give presentations and tell people about the park (although mostly we tell them how to find the bathroom).
This year has been a milestone in another way.  Come January we will have lived here for six years, which is a record for us.  Our previous record was 5½ years in Virginia.  Surprisingly we're not planning to move anytime soon.  Also living with us still are the fabulous felines, Snickers and Brutus.  Brutus as you might imagine is still fat, weighing in around 20 pounds.  Snickers just sneaks around trying not to be eaten.
Well, as our Christmas letter makes its way to you, we look forward to your letters and pictures coming to us.  Since we haven't seen some of you in a while, we hope that many of the pictures we receive will include you as well as your children – just so we recognize you when we see you again. J
Well, I think that's it for this year.  We both hope you have Happy Holidays and an enjoyable 2004!
Merry Christmas!
Nancy and Jerry Canterbury