Christmas 2004
Merry Christmas and Happy Holidays to One and All!  Welcome to our annual Christmas missive.  I'm sure it won't be a surprise that we have had a busy year once again.
Everyone always wants to know about the vacations.  We had several this year, including 2 big ones.  The first was 2 weeks to New England in late June and early July.  We drove, stopping to see national parks and friends in Syracuse along the way.  Then on to Bar Harbor and Acadia National Park, where we stayed in B-and-Bs and did a lot of hiking and exploring, it was a great time.  The next big one was a week in Canada in November, with 2 days in Winnipeg and 4 days in Churchill watching polar bears at Hudson Bay.  We also spent long weekends in Florida, Atlanta, Cincinnati and Chicago.  The weekend in Chicago was very special; we had tickets to a concert by "The Lt. Dan Band", led by Gary Sinise.  We were very lucky to finally get a picture of Gary with Jerry – and they really do look alike!  In late December we are all set for San Antonio, Texas to see Ohio State play in the Alamo Bowl, and the next big trip is 2 weeks in Australia set for late March, 2005 with Jerry's parents.  We are really looking forward to that; we have been trying to get there for years, and since Jerry's brother Bryan will be graduating from medical school there later in 2005, this is a perfect time. 
<![if !vml]>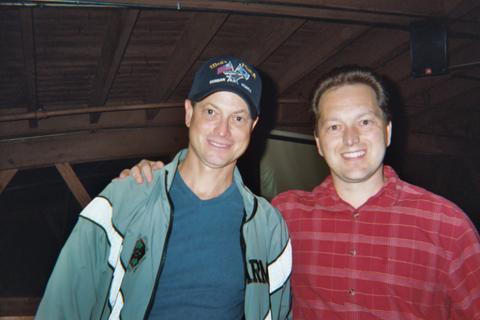 <![endif]>
Actor Gary Sinise with Jerry
Jerry is still with IBM, and is currently commuting to Buffalo, NY every week to a new client site.  He continues work on his MBA, and is just over half-way done, ending in December 2005 (he can't wait until it is over, it is a lot of work, but he continues to do very well).  He does take some time to have some fun.  He trained all last winter and spring indoors and out, and successfully completed the TOSRV (Tour of the Scioto River Valley), a 2-day, 200-mile bicycle ride from Columbus to Portsmouth, Ohio and back.  Nancy drove the "sag wagon", which means that she drove from rest stop to rest stop to see Jerry.
Nancy worked at Key Bank until September 3rd, and then resigned to take a 6-month "self-directed" sabbatical.  She is busy working on the house (painting the dining room and installing a chair rail, painting the living room and family room, major cleaning and yard work) and studying for her Project Management Professional (PMP) certification, as well as determining what her next career step will be.  She has been working with a personal trainer at the gym, which has helped her get in better physical shape.  She also took a Stained Glass class and completed a large leaded glass panel, and hopes to continue working on more projects.  She is amazed at how much time it takes to get things done, and wonders how it ever all got done before while working full-time!
We have continued our volunteer activities, spending one day a month at the Canal Visitor Center in Cuyahoga Valley National Park.  We also volunteered at a water stop for the Towpath Marathon in October, and at the park's electronics recycling effort.  Nancy serves as an "elf" on the Cuyahoga Valley Scenic Railway's "Polar Express".  On board the train, the "elves" read "The Polar Express" book and serve hot chocolate and cookies.  After a visit to the "North Pole", Santa comes on board the train to visit each child, and the elves lead Christmas Carols.  With the movie coming out this year, it has proven to be a very popular trip.  In addition, Jerry was just re-elected for another term as a board member of our Home Owner's Association.  Nancy also continues as Secretary for the Cleveland Ohio State Alumni Club, and Jerry serves on the Board.  We also participated in the Twin's Days 5K Run/Walk, Jerry ran and Nancy walked the course. 
On a musical note, Jerry participated in the Ohio State Marching Band's Alumni reunion on September 4th, and then on September 5th, we were thrilled to be able to participate with the KeyBank Choir and sing the National Anthem before a Cleveland Indians Baseball game.  Jerry participated in a pep band that played for a Cleveland Baron's Ice Hockey game.  We also have season tickets to the Broadway series at the Cleveland Playhouse, and have seen some great shows – "Urinetown", "Dame Edna", "Oliver", "On The Record" and "Big River". 
Snickers and Brutus continue to be our faithful furry friends.  Snickers gave us a little health scare earlier in the year, with a thyroid condition.  However, with radiation treatment, she is now just fine, and has even gotten a little too fat from being spoiled with treats.  Brutus still tips the scales at 20 pounds; he is on a "Catkins" diet and still does not lose weight! 
We continue in good health, and as always give an open invitation to one and all to visit – just let us know when you are going to be in Northeast Ohio and we would love to see you! 
Nancy and Jerry Canterbury