The Canterburys - Christmas 2005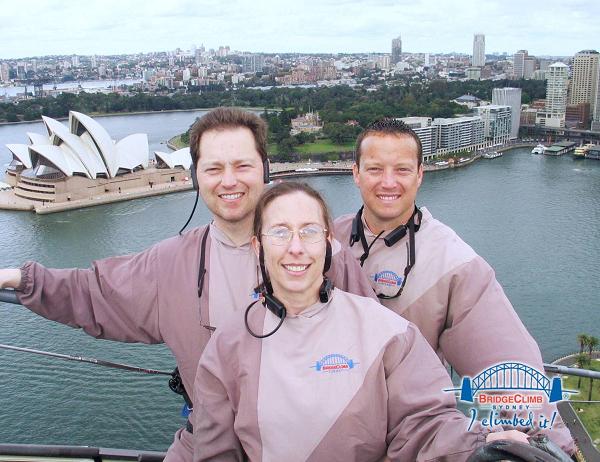 Jerry, Nancy, and Dr. Bryan, on the top of Sydney Harbour Bridge
For about 20 years now we've sent out these newsletters, and each year we ask ourselves, "Does anybody really read these? Do they cherish and save them? Or do they just line litter boxes and bird cages?" We had no idea – until now. We've lived in Twinsburg for just about eight years now. Even so, we still miss a lot of our friends from when we lived near Washington, DC. Occasionally we'll see some of our old buddies when we drive through the Washington area. Less often, one those acquaintances will visit us here near Cleveland, such our former next door neighbor from our DC days. So when Chris Meyer stopped in to see us back in the spring, we were happy to see an old friend. And when he asked if his visit was important enough to make the Christmas letter…..well, what could we say? We've never had a request before! So Chris, here you go – not only a mention, but top billing!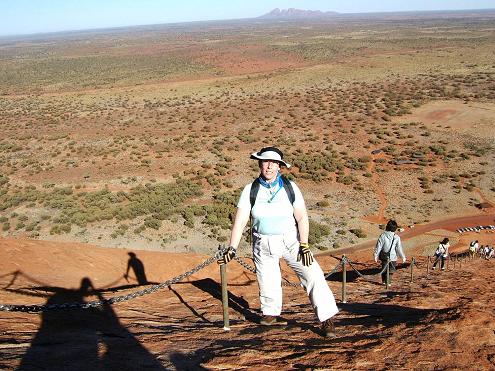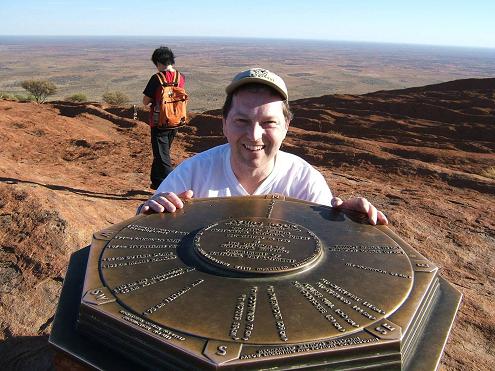 Nancy and Jerry climbing Uluru
We've had other excitement this year as well. We started the year off with a bit of fun, a New Year's Eve pajama party with some friends at our home. Who wants to be out with the drunks on the road on a cold snowy night, when you can be snug at home watching movies in your jammies? The next morning brought pancakes, so we definitely started the year off right!
Our major vacation of the year was in March when we took a 2½-week vacation to Australia. My brother Bryan was in medical school in Adelaide, and my parents wanted to visit while he was still there, so the four of us jumped on an airliner and took off for Down Under. Let me tell ya, Australia is a long way from Cleveland – 24 hours by plane. Once you arrive, you want to just sleep the first week! But we had a busy schedule while there, visiting Sydney, the Outback, and the Great Barrier Reef. The highlight of the trip was the Bridgeclimb, where we took a three-hour tour to the top of the world-famous Sydney Harbour Bridge. We also climbed Uluru ("Ayers Rock"), visited Alice Springs, and snorkeled on the Reef. Our other extended trip for the year was a visit to San Antonio in December 2004 for the Alamo Bowl, where Ohio State defeated Oklahoma State.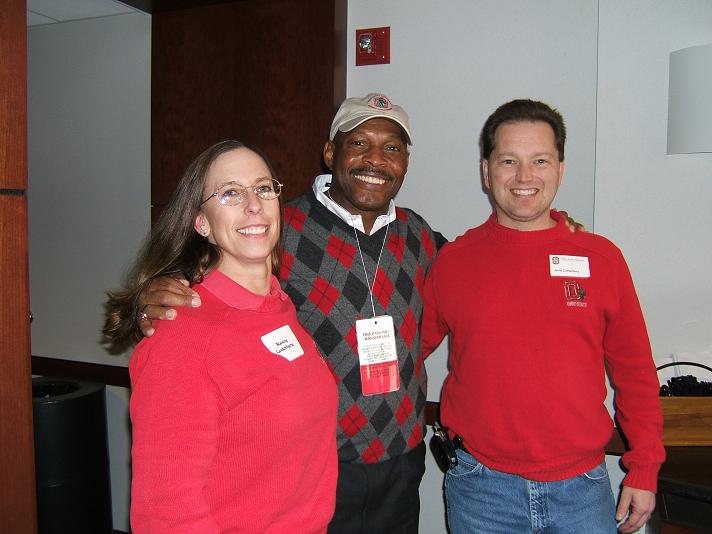 Nancy and Jerry with two-time Heisman winner and Ohio State alumnus Archie Griffin
Nancy started the year in the middle of her six-month sabbatical, which turned in an unplanned twelve-month sabbatical instead. After spending some time exploring career options, she found that was she was most qualified and suited for was what she was already doing previously – a project manager in information technology. With this new self-knowledge, she decided to spend some time formalizing her career choice. She bought some study guides, engaged in some self-education, and took a certification test. As a result she is now a PMP® – a certified Project Management Professional. With this designation she returned to searching for work again and found it quickly – working for her old company, Key Bank. She's currently a contractor there, but will possibly return to employee status in 2006, bringing her career full circle over the past 18 months or so.
The year for Jerry ended much as it began, with him still working at IBM and commuting to a client in Buffalo, New York four days per week. It's only 3½ hours by car, so he drives there usually. He could fly, but driving is more flexible and doesn't have the same risk of flight cancellations and delays. Jerry enjoys the work (well, as much as anyone can really enjoy 'work') and is getting more responsibility each day, so it looks like a good assignment.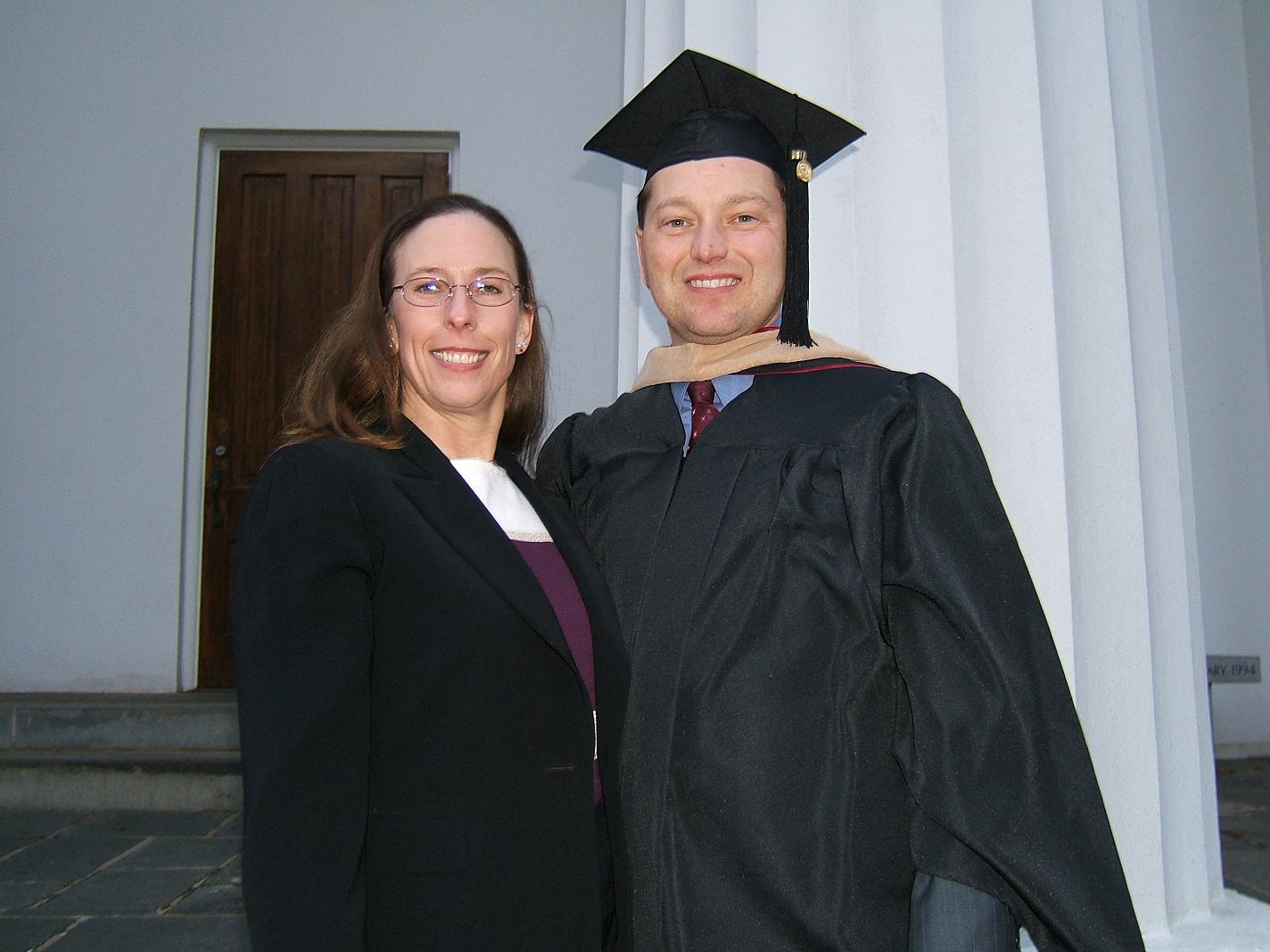 Nancy and Jerry on MBA graduation day
The other thing that kept Jerry busy during the year was studying for his MBA. This fulltime IBM-sponsored program at the University of Georgia required visits to Athens, GA once every three months for five days of lectures, then homework, group exercises, and exams while working remotely in between visits. Nancy says all Jerry did for the past 27 months was work, study, eat, and sleep. As the coursework got progressively harder, Jerry came to agree. But finally Jerry received his MBA on December 9. Quite frankly, he doesn't know what he's going to do with all his free time! We also have to give a shout-out to Jerry's brother Bryan, who completed his medical studies and earned his M.D. a week later on December 16. Congratulations, Dr. Canterbury!
In celebration of the MBA, we took a few days off and stayed in a B&B in Americus, Georgia. This is about 10 miles from Plains, GA, home of former president Jimmy Carter and his wife Rosalyn. We visited their church and were able to get our picture taken with them as well.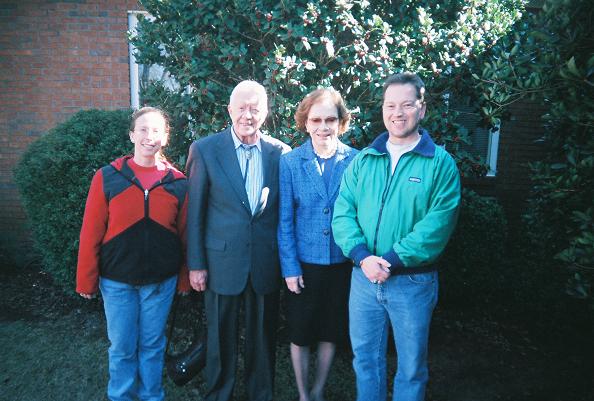 Nancy and Jerry with Jimmy and Rosalyn Carter
Snickers and Brutus continue to be our faithful furry friends. Unfortunately Brutus was quite ill about October and dropped from 20 to 15 pounds before he was diagnosed with cancer. He's on 'kitty chemo' now and doing much better. We are spoiling him by feeding him pretty much anything he wants. Snickers is in great health and sneaks a lot of Brutus's food when we aren't looking, so she is getting quite pudgy.
We continue in good health, and as always give an open invitation to one and all to visit – just let us know when you are going to be in Northeast Ohio and we would love to see you!
Nancy and Jerry Canterbury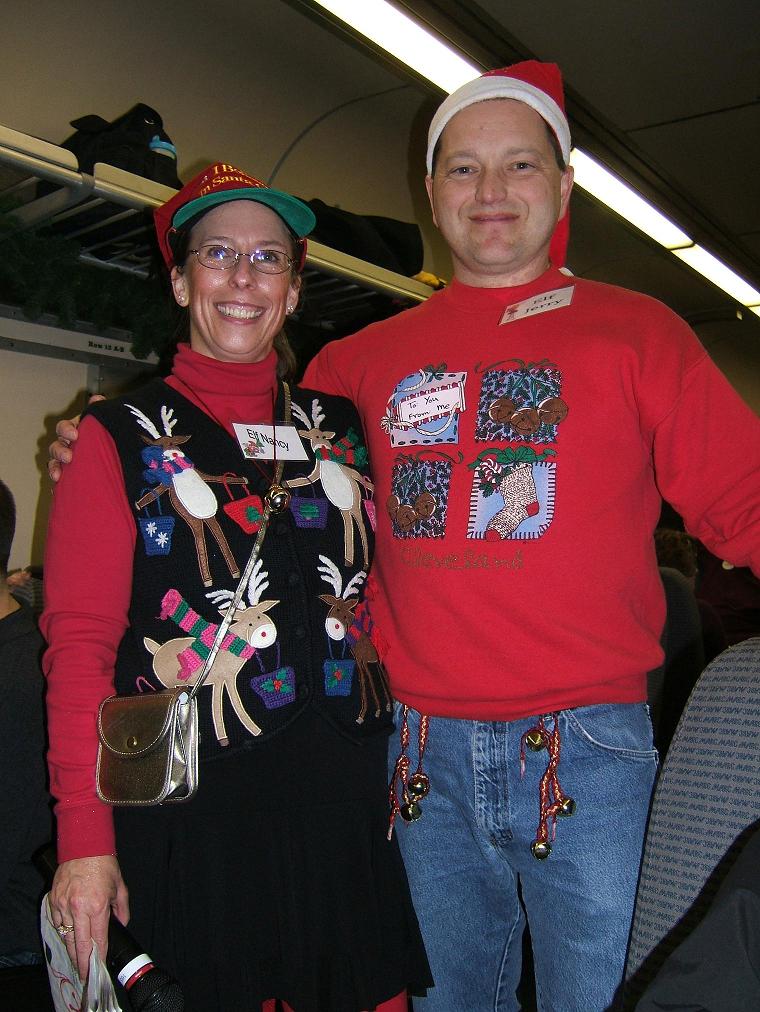 Nancy and Jerry volunteer as elves on "The Polar Express" train