The Canterburys - Christmas 2006
View Previous Years
1997 1998 1999 2000 2001 2002 2003 2004 2005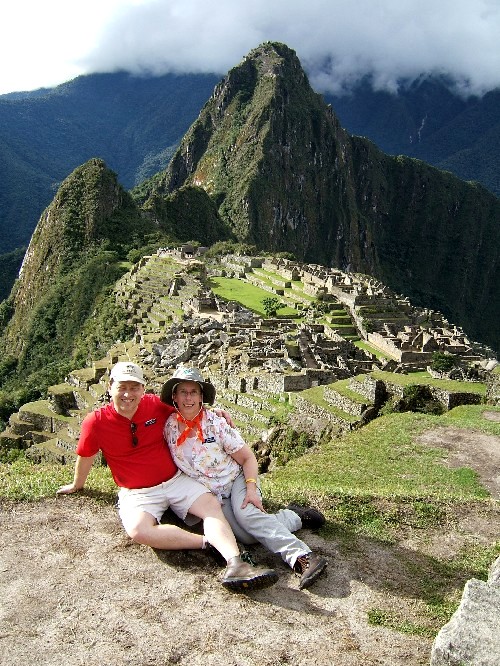 Jerry and Nancy at Machu Picchu, Peru
Yes, we're late getting our letter out this year. But that's because we headed south – way south – for vacation this December. But more on that later...
As has become our tradition, we started 2006 off with a bit of fun, a New Year's Eve pajama party with some friends at our home. Who wants to be out with the drunks on the road on a cold snowy night, when you can be snug at home eating treats and watching DVDs in your jammies?
Last year, Nancy returned from her sabbatical to take a temporary position with a staffing company. Coincidentally, the contract work turned out to be with her former employer, Key Bank. This year, Key Bank offered her a permanent position, so she left the staffing company and became a Key Bank employee again. Her job now is as a project manager.
The year for Jerry ended much as it began, still working at IBM and commuting to a client in Buffalo, New York four days per week. It's only 3½ hours by car so he drives there. He could fly, but driving is more flexible and doesn't have the same risk of flight cancellations and delays. Jerry enjoys the work (well, as much as anyone can really enjoy 'work') and is getting more responsibility each day, so it is a good assignment.
We had two really big vacations this year. The first trip was in April and combined visits to Machu Picchu in Peru and the Galápagos Islands in Ecuador. Machu Picchu, the endpoint of the Inca Trail and sometimes referred to as the "Sacred City of the Incas," was exceeding beautiful and we enjoyed the opportunity to learn about the historic Inca and modern Peruvian cultures. We visited mountainous regions with altitudes up to 14,000' so just breathing was a challenge at times. In the Galápagos we boarded a small cruise ship named Polaris which took us to various islands to see the wildlife, including iguanas, sea lions, booby birds, Galápagos penguins, sea turtles, and the famous Galápagos tortoises. We walked right among the animals as they had no fear of us. The Galápagos Islands are well-known for their varied wildlife and as the inspiration for Darwin's Theory of Evolution.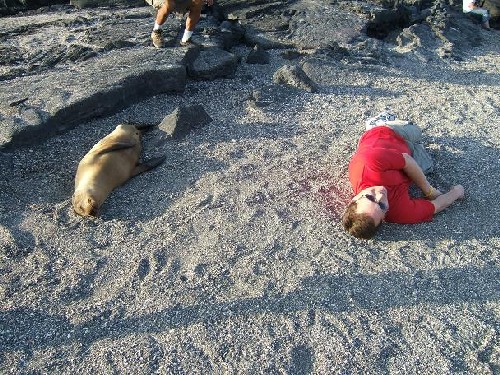 Nancy and Jerry meet the residents of the Galápagos Islands, Ecuador
Our second trip this year took us to the end of the earth: Antarctica. This adventure started with 1½ days of flights from Ohio to the southern tip of South America – the island of Tierra del Fuego, Argentina. From there we boarded a small cruise ship named Sarpik Ittuk which took us another two days to the northern tip of the Antarctic Peninsula. We toured around in the ship for five days and walked on the shores of Antarctica. We saw hundreds of thousands of penguins, more than a few seals, and more icebergs than we could count! And, did you know that the ocean around Antarctica is just about 32°F? We know now, after we took a 'polar plunge' from the ship into the freezing waters as icebergs floated by.

Jerry and Nancy with a few well-dressed friends in Antarctica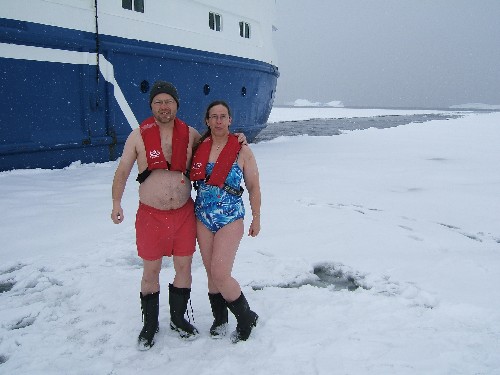 Jerry and Nancy standing on the sea ice of the Antarctic Ocean
We had a couple weekend trips too. The first was for Jerry's family reunion during the summer in West Virginia. A second trip to WV in October was to the annual Bridge Day event at New River Gorge National River. In this event, hundreds of parachute jumpers come from all over the world to jump off the highest single-span arch bridge in the United States. We didn't jump ourselves – just not that crazy! – but it was interesting to watch the others do it, and it was a nice drive through fall colors too.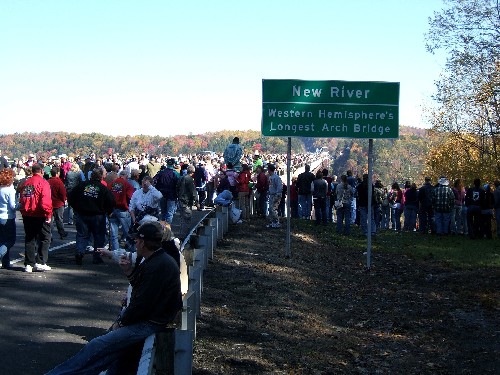 The Crowd at BridgeDay
A trip we have planned is to the BCS Championship Game on January 8, 2007 in Glendale, Arizona. This game determines the champion of major college football, and features our #1 Ohio State Buckeyes facing the #2 Florida Gators. Should be fun! Two other activities kept us entertained this year. The first was volunteering at the nearby Cuyahoga Valley National Park, where we continue to staff the visitor center and help visitors with information about the park. The other is bicycle riding: we both trained for and completed a 100-mile bike ride this year.
Unfortunately we had some sad news to start the year. Our big orange cat Brutus, after doing well for a few months, finally succumbed to cancer in January. The end came quickly and was quite difficult for us. He was a good friend for about 10 years, and we're still very sad he had to leave us.
But even sadness can bring some joy. We still have Snickers of course, who is now an incredible 17 years old! She had become quite plump and lazy. In January we adopted an abandoned six-month-old grey tabby kitten and named him Jackson. It's been fun watching him grow, and it's a long time since we had a kitten in the house. He was quite rambunctious, so we decided he needed a friend to keep him amused. So we adopted another cat who is about one year old, this one all black and named Spookie. I call Spookie the 'emergency backup cat' and claim to Nancy that we are one cat over the two-cat limit. Not surprisingly, Nancy disagrees and says we have just enough cats. Jackson and Spookie are the best of friends and keep us entertained with their antics.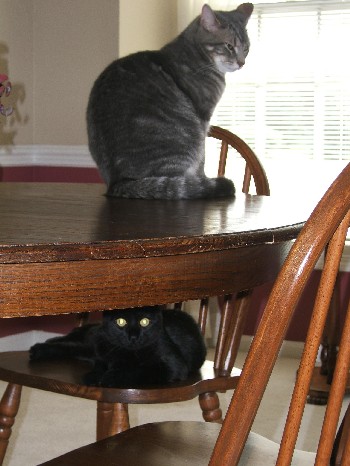 Jackson (top) and Spookie, up to no good...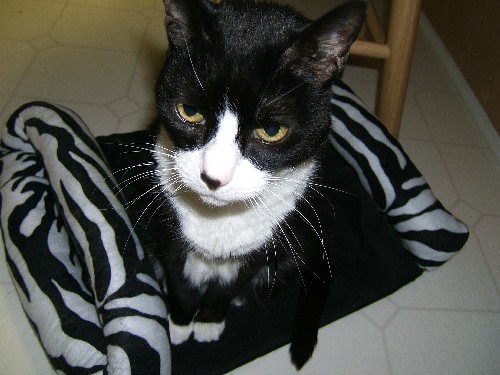 ...as Snickers disapproves
2007 will be an especially notable year for us, as our 20th wedding anniversary is in March. If you're thinking of gifts, I think the 20th is the 'electronics' anniversary – hmm, maybe we should register at Best Buy! :) (Just kidding, of course – no gifts, please!)
We continue in good health, and as always send an open invitation to one and all to visit – just let us know when you are going to be in Northeast Ohio and we would love to see you!
Nancy and Jerry Canterbury
Last updated 2006/12/24