| | |
| --- | --- |
| | |
| Jerry fights jetlag in the ruins of a coliseum in Alexandria, Egypt | Meeting Dr. Zahi Hawass, Secretary General of the Egyptian Supreme Council of Antiquities |
Our "big" vacation this year was to Egypt in April. It was our first visit to a predominantly Muslim country, but everything went along swimmingly. We saw the major sites, including the Pyramids of Giza and the Sphinx, as well as Alexandria, Luxor, the Valley of the Kings and Valley of the Queens, Abu Simbel, Thebes, Edfu, and Karnak. We met with Dr. Zahi Hawass, a preeminent and well-known archeologist; he's on the History Channel a lot. The trip was also quite relaxing, as a major part of the journey was a cruise down the Nile between some of these historic sites. The features we saw were certainly some of the oldest ever built by man and it's difficult to conceive that they completed all this in ancient times. Although it wasn't too hot, there was no question we were in the desert; at one point in the trip, our flight was delayed about six hours due to a sandstorm. Contrary to what some might expect, we didn't encounter any anti-America hostility. In fact, we got more than a few thumbs-up from the locals, and a few statements of "Americans good, we love Americans!" We did find a huge – huge – security presence, as there were "tourist police" everywhere we looked, and our tour group also got a police escort on occasion. We also took a short ride on a camel, mostly to say we'd done it. The trip was exceptional for another reason as well, as on this trip we set foot on our 7th continent, Africa!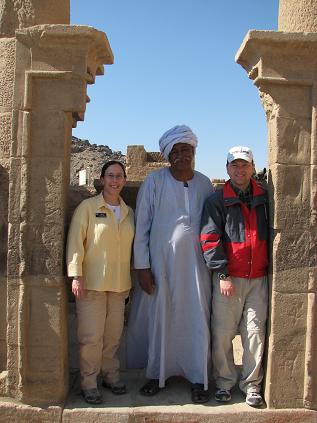 Making Friends in Egypt

We also took a long weekend trip in July to Rehoboth Beach, Delaware for the wedding of Tiffany Carver, a beautiful young woman we've known since we lived in Delaware in the late 1980s. We had a nice weekend seeing some old friends and staying in a lovely bed-and-breakfast a couple blocks from the ocean. On our way home, we stopped in Maryland to visit a friend we met on our Machu Picchu trip last year, Cyndi Reynolds and her husband. We also visited Washington, DC to see the World War II Memorial on the National Mall, which was built in the time since we lived in the Washington area ourselves. It is quite an impressive monument to the heroes of the 1940s.

Cleveland has an annual event called "Tackle the Tower" we've done a number of times, including this year, where you pay for the privilege of climbing the stairwell of a tall building as a fundraiser for Ronald McDonald House. We do it for the uniqueness and challenge of the event. This year, we found that the World Wildlife Fund has a similar event each April, but this one is in the CN Tower – the world's tallest tower – in Toronto, Canada. There were 1476 steps to climb, but we both made it – then took a long nap for the rest of the day!

It may seem like all we do is attend sporting events, but that's not the case. However there is one more sports-related story for the year, as the Cleveland Indians – the same team that once lost 100 games in a season and was the sad-sack protagonist of the Major League movies came within a game of making the World Series. We attended the game with Jerry's father and brother and other friends. We had tickets to see a World Series game in Cleveland too, but alas there was to be no such game played this year.
| | | |
| --- | --- | --- |
| ON the Pyramid | Spelling O-H-I-O with fellow Ohio State alumni | At the Winter Palace in Luxor |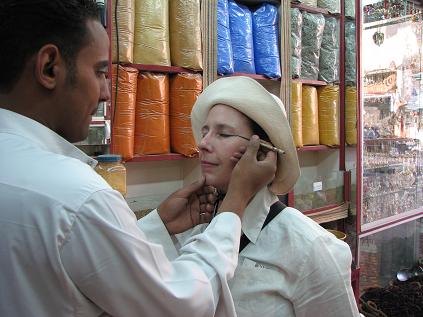 Nancy gets some Egyptian makeup
At this point in time, Nancy is on a brief medical leave from work. Her hands and wrists have bothered her for some time, so she elected to have carpal tunnel surgery to help with that problem. She has two surgeries, one on each hand, scheduled three weeks apart. So far she's done well and believes the treatment is working well for her. When she goes back to work, she will still be at Key Bank as she has been for a number of year