View Previous Years
1997 1998 1999 2000 2001 2002 2003 2004 2005 2006 2007 2008 2009 2010 2011
---
At last!  We've finally reached Christmas week!  It's time to relax and write up the annual holiday missive, to recap and share the events that shaped our lives this year.
<![if !vml]>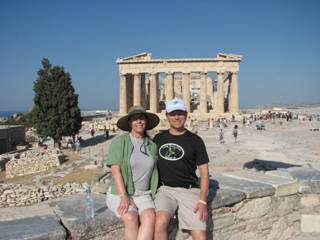 <![endif]>
Nancy and Jerry at the Parthenon
Athens, Greece, July 2012
In February this year we had more drama than we wanted, as a toilet on the second floor of our house malfunctioned, resulting in a flood that damaged three rooms of our home.  Watching water pour through the kitchen ceiling, I called Nancy who was taking a walk through the neighborhood.
"Nancy, come home!  The toilet overflowed!"
"So?  Just fix it!"
"No, you don't understand.  You need to come home NOW!"
The damage was severe, requiring ServiceMaster and a number of other contractors to be in our house for about six weeks.  The first week was the worst, with nine industrial strength jet dryers running constantly to dry out the house.  For that week, it sounded like we lived inside an airplane jet engine.  Fortunately all damage was repaired and the house is completely back to normal.
<![if !vml]>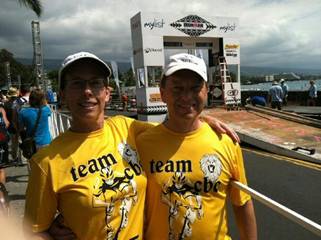 <![endif]>
Nancy and Jerry at the
Kona Ironman finish line
October 2012
On the positive side, this year was our 25th wedding anniversary!  We were both giddy with excitement about reaching this milestone.  We celebrated by spending a long weekend at the Outer Banks, staying at a B&B, seeing lighthouses and other attractions in the area.
Also this year, Nancy decided to make some positive changes for her health.  She changed her eating habits and embarked
<![if !vml]>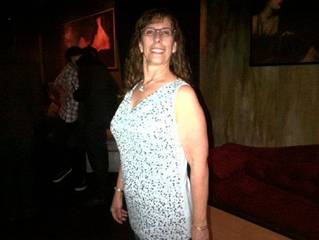 <![endif]>
A svelte Nancy looks fabulous
in her sparkly top
on a new exercise regimen.  As a result she lost 45 pounds.  People that haven't seen her in a year almost don't recognize her.  She looks great and feels great as a result.
Meanwhile, Nancy's job has gone through some gyrations that resulted in good news for us.  Nancy worked in a temporary contract position at Blue Cross, as a project manager.  Earlier this year Blue Cross outsourced their IT division to Fujitsu, so Nancy's contract transferred to Fujitsu as well.  Then Fujitsu offered Nancy a full-time job starting this past April.  Nancy loves the job, and we're both excited about the change.
The one challenge of Nancy's job is that is has been about a one-hour commute each way.  When the job was temporary it
<![if !vml]>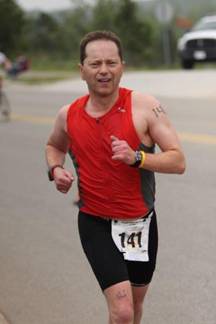 <![endif]>
Jerry sprints to the finish
line of another triathlon
was just something we accepted, but now that it's become permanent, we need to cut down on Nancy's time in the car.  As a result we are building a new home that's about 20 minutes from Nancy's job.  We'll move in by the end of January.
I continue to work at IBM.  This has been a year of positive change for me as I was able to get a new position working from home.  It's fantastic, as I don't have to spend time in airports, airplanes, and hotels anymore.  I have a lot more free time and enjoy getting to see my wife and my friends during the week.  There were a few short trips (New York, Singapore, Indianapolis, Mexico City) but that's a fair tradeoff for getting to spend the rest of my time at home.
We enjoyed our vacation travels again this year.  We spent a few days after Christmas 2011 in Savannah, Georgia seeing the historical sites of that city, including where scenes from Forrest Gump and Midnight in the Garden of Good and Evil were filmed.  From there we continued to Jacksonville, Florida to see Ohio State play in the Gator Bowl before returning home.
Our capstone trip this year was a small ship cruise to Greece and Turkey.  We went with friends Dave and Amanda Pickering, and the cruise ship had only 46 passengers on the trip.  We visited sites of Athens, including the Parthenon and the Acropolis.  The new Acropolis Museum was a highlight.  We also visited the monasteries of Meteora and Delphi, home of the famous Oracle.  Our cruise took us to many islands including Mykonos, Santorini, Naxos, and Patmos.  In Turkey we toured the ancient city of Ephesus (referenced in the New Testament Letter to the Ephesians) and finished in Istanbul before returning home. Our tour guide was outstanding.  We'd recommend the trip to all of our friends.
We ended up with a bonus trip this year.  My brother Bryan earned a spot to the Ironman race in Kona, Hawaii, the dream of every triathlete.  Of course Nancy and I, along with my father, had to go along to cheer!  We had an outstanding week in Kona, seeing all the athletes, watching the race, and hanging out with family.  It was easily one of the best vacations we've ever had.
We enjoyed other exciting events this year as well.
We drove NASCAR races cars at speeds approaching 150 miles per hour at the Charlotte Motor Speedway.
We went skydiving for a second time – nothing quite like jumping out of a perfectly good airplane!  This time I got to push myself out of the plane!
Nancy completed her first triathlon, making me and many of our friends very proud of her.
I completed a number of races and other endurance events this year.  There was a marathon in the spring.  In the summer there was a 200-mile relay run from Columbia to Charleston, SC.  In the fall I completed a half-ironman, a half-marathon, and another half-marathon on three consecutive weekends.
We traveled to Ohio to visit family and friends.  We attended a few Ohio State football games, including another victory over archrival Michigan.
Life in North Carolina is treating us well.  We're happy here and glad we made the move.  We love the weather and love the outstanding group of friends we've made here.  If you're near Raleigh, please let us know.
If you haven't found us on Facebook yet, please do.  It's great fun to keep up with friends and family more than once a year.
Happy Holidays!
Nancy and Jerry Canterbury
Last updated 2012-12-22