View Previous Years
1997 1998 1999 2000 2001 2002 2003 2004 2005 2006 2007 2008 2009 2010 2011 2012
Hello from the Canterburys!  We hope you've had a great year!
<![if !vml]>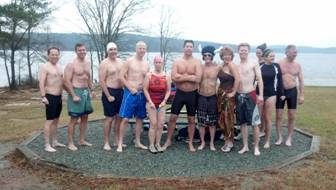 <![endif]>We started our year with what we expect to be a new annual tradition.  On New Year's Eve and New Year's Day, we participated in three 3-mile races and runs, then went over to nearby Jordan Lake – and jumped in!  The water temperature was in the low 50s and the air temperature in the 30s.  Afterward we visited a local tavern and warmed ourselves both inside and out. 
<![if !vml]>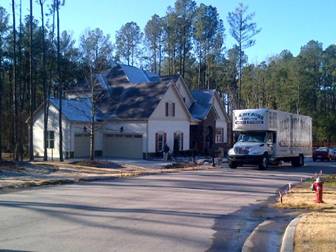 <![endif]>For us, the year started off with lots of activity as we moved into our brand new house.  We had all the last minute activities: packing, inspections, buying appliances, switching utilities.  By late January we were in the new home.  We love the new house!  It's so quiet here.  We were the 4th family to move into what will be a 44-home development.  We'll be living in a construction zone for another year or so while they complete build-out, but it will be worth it.  The community is surrounded by green space.  Our lot backs to a protected area full of trees.  Beyond that is the local 20-mile-long recreational trail, great for walking, running, and biking.  Yet we're close to shopping and the brand new fitness center is just a four-minute drive.  Meanwhile, Nancy's daily commute has gone from 38 miles each way to just 12.
<![if !vml]>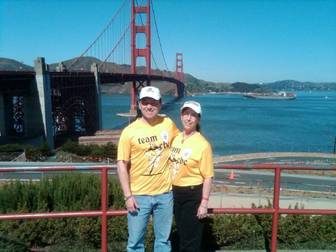 <![endif]>
Additionally the builder decided to feature us and our new home in their magazine which they put in their model homes and send to prospective buyers.  The builder sent photographers to take pictures of us and our home, and a technical writer to interview us.  The article should be published soon, but we saved the first draft so we can share it with you at this link.
Nancy has been at her project manager job at Fujitsu for over a year.  Although it's no surprise to Jerry, apparently it's a bit of a revelation to Nancy that people think she's good at her job. J  She had a few rough weeks with a challenging project, but came out smelling like roses on the other end.
Jerry continues to work at IBM.  His temporary work-from-home position turned into a permanent one for which he's very thankful.  He has the occasional business trip, traveling to Singapore and Japan in April to assist with some training classes.  In September he was asked to travel to a project for a couple weeks to fill in as project manager.  Fortunately for Jerry that project was just 10 miles from home!  It was interesting to be back in an office environment for a while – but just for a while.
<![if !vml]>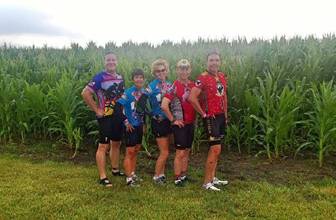 <![endif]>
Our trips this year were to San Francisco and Louisville, Kentucky.  First, Jerry signed up for the Escape from <![if !vml]>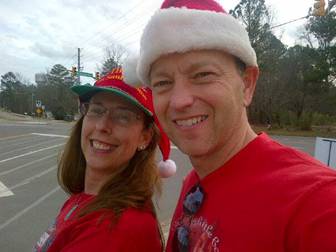 <![endif]>Alcatraz Triathlon in March – swim like an escaped prisoner from Alcatraz to the San Francisco shore, then bike and run through the city.  Our friend Maria also did the event and her parents went along, so together we enjoyed visiting Fisherman's Wharf, Lombard Street, and other sites we last visited in 1992.  We also met up with Nancy's long-lost cousin John Knox who lives in San Francisco.  We followed that up with another triathlon weekend to Kentucky in August, this time for Jerry to do the 140.6-mile Ironman Louisville event.
Jerry also took a week off in July to do RAGBRAI – the Des Moines Register's Annual Great Bike Ride Across Iowa – a 400-mile bicycle ride from the west end to the east end of the state with great friends.
<![if !vml]>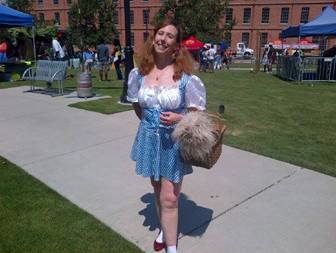 <![endif]>
In non-travel news, Nancy took on a lot of responsibility this year, as race director for the Raleigh Jingle Bell 5k Run which happens each December to raise money for the Arthritis Foundation.  Nancy started as a volunteer on the organizing committee for this event a <![if !vml]>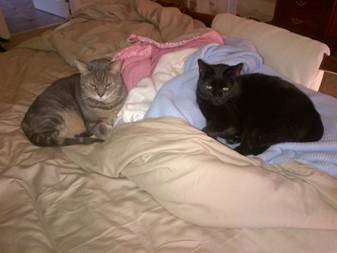 <![endif]>few years ago, moving up until they asked her to be in charge.  The event had its best year ever, setting records for the most participants and the most money raised.  This was the second such event Nancy managed this year, as she also was a lead organizer for a local bicycle ride called the MS Spring Fling that also raised a good amount of money for the Multiple Sclerosis Society.
Jerry went skydiving a few times again this year, including on his 50th birthday.  At Thanksgiving he went once more and took his dad along.  How many sons get their push their dad out of a perfectly good airline?!
Meanwhile, Nancy took advantage of every opportunity to play dress-up this year, passing herself off as Dorothy, Lt. Uhura, and a cavewoman for various events.
Even this great year has some sad news.  Jerry's paternal grandmother passed away this fall after a lengthy illness.  However we're glad that the entire family got to visit her for her 90th birthday in the spring.
Our cats Jackson and Spookie continue in good health.  They also enjoy the new house especially the screened porch where they can enjoy the sunshine while watching the birds and other wildlife go by.
We hope you had a great year as well and have plans to make 2014 great too.  If we haven't connected on Facebook yet, please find us there so that we can stay in touch during the year.
Merry Christmas and Happy Holidays!
Nancy and Jerry Canterbury
---
Last updated 2013-12-28