The Canterburys – Christmas 2014
View Previous Years
1997 1998 1999 2000 2001 2002 2003 2004 2005 2006 2007 2008 2009 2010 2011 2012 2013
Christmas 2014
Hello from the Canterburys! We hope youÕve had a great year!
<![if !vml]>
<![endif]>We started our year with our new annual tradition. On New YearÕs Eve and New YearÕs Day, we participated in three 3-mile races and runs, then went over to nearby Jordan Lake – and jumped in! The water temperature was in the low 50s and the air temperature in the 30s. Afterward we went to a friendÕs house to warm up and engage in a Secret Santa gift exchange.
<![if !vml]>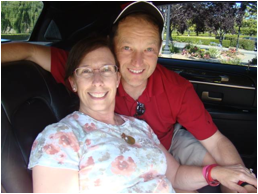 <![endif]>WeÕre coming up on the second anniversary of moving into our new home. We were the fourth family to move into the development and now the community is nearly built out. WeÕre looking forward to the day when the last construction vehicle pulls out for good. I think weÕll have a parade!
Nancy continues her position as a project manager at Fujitsu while Jerry continues to work from home for IBM. Jerry has had a few business trips this year, to Berlin, Germany; Bangalore, India; Tokyo, Japan; plus Orlando, San Jose, and Chicago in the US, but is happy to be at home the rest of the time.
This year it seems almost all our trips were related to athletic events. First in January we visited Disney World in Florida so Jerry could participate in the Dopey Challenge – four running races on four consecutive days (5k, 10k, half-marathon, and marathon – 48.6 miles total). A bunch of friends did the races with us. We also had dinner with my sister Kim who happened to be in the area, visited the Shreves, a couple we know from Twinsburg who retired to Florida, and then just enjoyed spending time with just the two of us visiting Disney World.
<![if !vml]>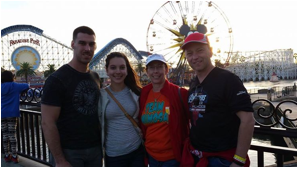 <![endif]>As mentioned Jerry had a business trip to Germany in February. Nancy joined him later in the week and we made a long weekend of it, seeing many historical sites from World War II and the Cold War. The weather was unseasonably warm making for an awesome weekend. WeÕd love to return to Germany for a longer visit some day.
<![if !vml]>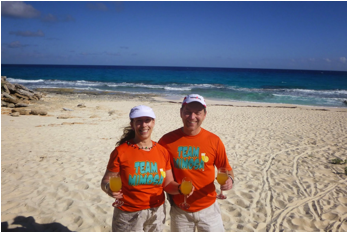 <![endif]>
Another athletic trip was to San Francisco in June, where Jerry again completed the Escape from Alcatraz triathlon. Some other friends from the Raleigh area also competed so we had lots of fun with the gang. A bonus was that we encountered a couple top triathletes, Mirinda Carfrae and Leanda Cave, and got our pictures taken with then. The day after the race we rented a limo with friends and toured Sonoma County, tasting a number of different wines along the way.
September took us to Chattanooga, Tennessee with a number of friends as Jerry completed his third iron-distance (140.6 mile) triathlon. It was our second trip to Chattanooga in 2014, as we did a trip to scout out the race course in July.
<![if !vml]>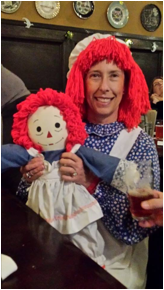 <![endif]> In November we returned to California, this time so Jerry could complete a half-marathon at Disneyland and complete the Coast-to-Coast Challenge – a half-marathon at both Disney resorts in the same year. We spent time with our niece Brittany and her fiancˇ Ian who live in California now.
The year ended with some vacation drama. We planned to fly to DeadmanÕs Cay in the Bahamas to spend the week with John and Penny Novak, friends Jerry has known since he was 10. However once we reached Nassau for the connecting flight, the pilots of Bahamas Air went on strike for days. After an unplanned hotel night in Nassau we were able to charter a private plane, continue our journey, and spend lots of time on the beach.
In non-travel news, Nancy continued as race director for the Raleigh Jingle Bell 5k Run that happens each December to raise money for the Arthritis <![if !vml]>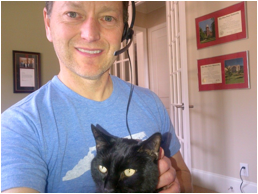 <![endif]>Foundation. Nancy started as a volunteer on the organizing committee for this event a few years ago, moving up until they asked her to be in charge.
Meanwhile, Nancy took advantage of every opportunity to play dress-up this year, passing herself off as Raggedy Ann, a Bavarian bar maid, and a pirate for various events.
Sadly not all news this year was good. Our 9-year-old black cat Spookie took seriously ill in April and it seemed the end was near. But he made a miraculous recovery for five months before relapsing and passing away in September. He was a good friend to Jerry, sitting on his lap and helping him work every day. The extra five months with the Spookie were a blessing, but he is still sorely missed in this house.
Our gray cat Jackson continues in good health and now he has two new companions Spats (tuxedo cat with white feet) and Chaplin (black and white cat with a moustache). The new boys are brothers and littermates, about 2½ years old, and rescue cats. They are making themselves at home and doing their best to learn the ropes and fit in.
We hope you had a great year as well and have plans to make 2015 great too. If we havenÕt connected on Facebook yet, please find us there so that we can stay in touch during the year.
<![if !vml]>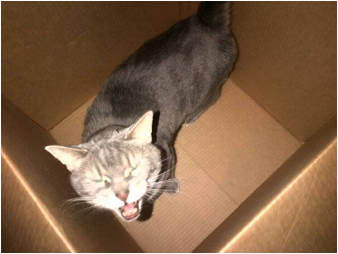 <![endif]><![if !vml]>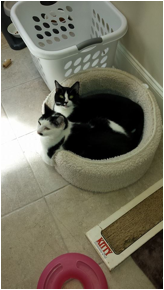 <![endif]>Merry Christmas and Happy Holidays!
Nancy and Jerry Canterbury
https://www.facebook.com/jerrylcanterbury
https://www.facebook.com/nancy.canterbury
Last updated 2014/12/31