The Canterburys – Christmas 2015
View Previous Years
1997 1998 1999 2000 2001 2002 2003 2004 2005 2006 2007 2008 2009 2010 2011 2012 2013 2014
---
<![if !vml]>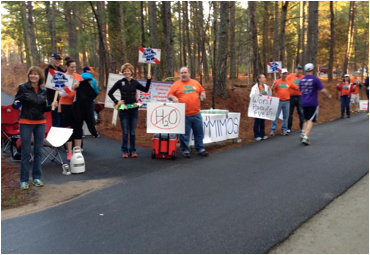 <![endif]>Hello from the Canterburys! We hope youÕve had a great year!
Our year began as the last few have, with a polar plunge into Jordan Lake on New YearÕs Day, when the water temperature was in the low 50s. A dozen friends joined us for our 3rd annual event.
Later in January, we and the same group of friends jetted off to New Orleans for a long weekend to compete in the Rock ŌnÕ Roll Half-Marathon.
In February, we had our now-annual Groundhog Day party. Jerry also completed the Krispy Kreme Challenge again – run 2.5 miles, eat a dozen doughnuts, then run 2.5 miles back to the start!
In March, we watched and cheered the Tobacco Road Marathon that goes near our house – and handed out beer to the runners.
In May, we visited the Outer Banks for a long weekend in a bed-and-breakfast with friends.
In the spring, we had to chance to see our niece MacKenzie participate in the collegiate diving championships in Greensboro, NC, and our niece Emily participate in a field hockey tournament in Richmond, VA.
<![if !vml]>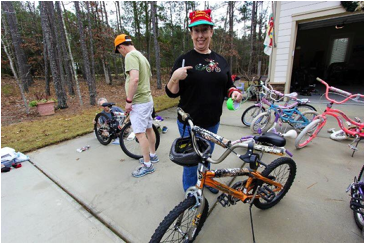 <![endif]>In June, we along with hundreds of friends set a Guinness world record for the largest number of people running a race wearing flip-flops.
In July, Jerry participated in the annual bike ride across Iowa called RAGBRAI for the second time, while Nancy tagged along. Jerry completed 494 miles on his bicycle, and also got to see great musical entertainment such as Dennis Deyoung of Styx and Cheap Trick.
This summer, our neighborhood community was built out after three years, meaning the construction trucks have stopped driving by every day and we have lots of peace and quiet!
In September, Jerry returned to Columbus for his annual Ohio State University Marching Band reunion, happy to see old friends once again. Unfortunately Nancy had a severe cold and had to miss the trip this year, but she has recovered.
In November, Jerry participated in a three-day, 280-mile bike ride from Fort Myers Beach to Key West, FL, enduring heat waves, thunderstorms, and gusty winds to reach his goal. Nancy came along and ended up as a volunteer supporting the 60+ riders on this event, winning accolades from them as well as the event organizers.
Also in November, we visited Myrtle Beach for Thanksgiving weekend. This was our first time visiting Myrtle Beach, and we had a nice time visiting with friends who invited us to stay with them, especially as the town was quiet for the holiday. IÕm sure the place is packed during the summer tourist season.
<![if !vml]>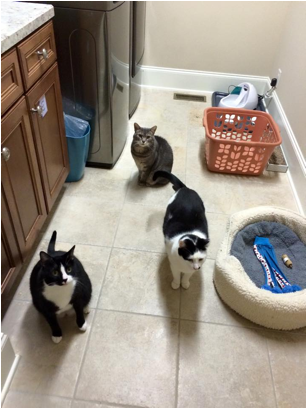 <![endif]>In December, Nancy was once again the race director for the local edition of the Jingle Bell 5k Run. The event raised $134,000 for Arthritis Foundation. We sang the national anthem as a duet to kick off the event, the third time we sang the anthem at a public event this year.
Also in December, Nancy managed the collection, repair, and cleaning of a number of used bikes which were then given to needy children as Christmas presents.
Unfortunately not all was good news this year. NancyÕs 93-year-old aunt Isabel passed away after a brief illness. She was special because she took Nancy in when her parents died when she was in 10th grade. She loved Ohio State and her dogs, and was smart, funny, acerbic, well-read and a great cook. She told me of her memories of Pearl Harbor as a young adult, so it is fitting that she died on Pearl Harbor day. She will be missed, it is bittersweet, she missed her husband Dave, but now she is at peace.
Our cats continue in good health. Jackson (gray) has been with us since he was a kitten and is 10 years old now. The two boys we adopted in 2014, Spats (black tuxedo, left) and Chaplin, are 3½ now and plumper than weÕd like. All three get along quite well, and weÕre happy to have all three boys in our lives.
We hope you had a great year as well and have plans to make 2016 great too. If we havenÕt connected on Facebook yet, please find us there so that we can stay in touch during the year.
Merry Christmas and Happy Holidays!
Nancy and Jerry Canterbury
https://www.facebook.com/jerrylcanterbury
https://www.facebook.com/nancy.canterbury
Last updated 2015/12/24