The Canterburys – Christmas 2016
View Previous Years
1997 1998 1999 2000 2001 2002 2003 2004 2005 2006 2007 2008 2009 2010 2011 2012 2013 2014 2015
---
<![if !vml]>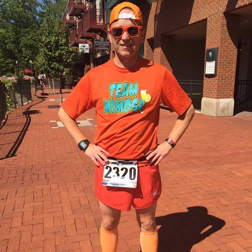 <![endif]>
<![if !vml]>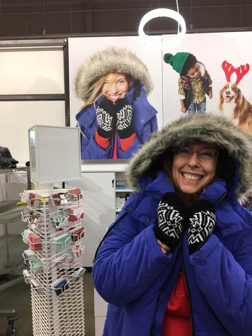 <![endif]>Hello from the Canterburys! We hope you've had a great year! We certainly have!
As has become our tradition, we start the year with a polar plunge into the cold waters of nearby Jordan Lake. Unfortunately, this year's plunge was delayed from New Year's Day to January 30 due to flooding which closed the lake and surrounding park for a couple weeks. After the plunge, we returned home to host our friends for another tradition, our annual Groundhog Day party!
The other major event in January was Jerry's one-day, 100-mile century bike ride through the Florida Keys, a bucket list item for him. He found four friends to go along with him, and Nancy rode along in the support van. As a bonus, we had brunch with Jerry's sister and brother-in-law Kim and Jim, who serendipitously were in Key West at the same time.
In February, we drove to Richmond, VA to see our niece Emily compete in a field hockey tournament. This fall, Emily signed to play college field hockey next year at Dickinson College.
In April, we flew to Indianapolis to see our niece MacKenzie compete in the diving trials for the USA Olympic diving team. She jumps off a 30-meter platform to perform beautiful aerial gymnastics. If I jumped off that platform, I'd probably miss the water!
<![if !vml]>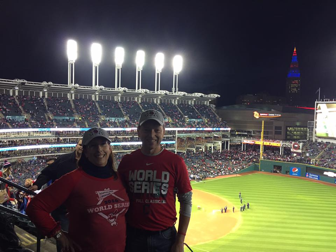 <![endif]>In May, Jerry participated in the New Jersey Marathon. It was his first time completing a marathon in under four hours.
In June, we met up with several friends in Pittsburgh then spent the next six days cycling 350 miles to Washington, DC. This "Bike the Gap" trip took us along an old railroad bed up and over the Eastern Continental Divide, then along the old C&O Canal towpath to a finish on the National Mall.
August and September kept us busy with high school reunions – 35th for Jerry back in North Ridgeville, OH and 40th for Nancy in Unionville, PA. We also visited Columbus for the annual Ohio State University Marching Band reunion, in which Jerry performed in Script Ohio for over 100,000 people once again.
In October, we returned to Cleveland twice, to watch the Cleveland Indians play in the playoffs: once in the ALCS and then Game 1 of the World Series. The Indians won both games; clearly we are good luck!
For Thanksgiving weekend, we returned to Columbus as we do every other year, for <![if !vml]>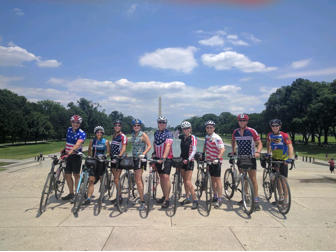 <![endif]>the penultimate Ohio State-Michigan football game.
December was jam-packed. Nancy successfully directed the Jingle Bell 5k Run for Arthritis for the 4th year in a row. The next day, we had a group of friends over who fixed up a collection of donated bikes, which will be given to local children in need as Christmas gifts. After that busy start we needed a vacation, so we spent a week in Florida, visiting Universal Orlando and the beach. An unexpected bonus was a free Christmas concert at Universal by Mannheim Steamroller.
<![if !vml]>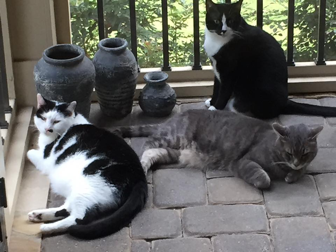 <![endif]>
Our careers continue as they have for the past few years, with Jerry still working at IBM and Nancy at Fujitsu.
Our cats are in good health and get along well – and eat well too. Jackson (gray) is the oldest at 11. Chaplin (white) and Spats (tuxedo) are about 4_.
We hope you had a great year as well and have plans to make 2017 great too. If we haven't connected on Facebook yet, please find us there so that we can stay in touch during the year.
Merry Christmas and Happy Holidays!
Nancy and Jerry Canterbury
https://www.facebook.com/jerrylcanterbury