The Canterburys – Christmas 2017
1997 1998 1999 2000 2001 2002 2003 2004 2005 2006 2007 2008 2009 2010 2011 2012 2013 2014 2015 2016
Well hello again to all!  2017 has been a year of big changes and events for the Canterburys!
<![if !vml]>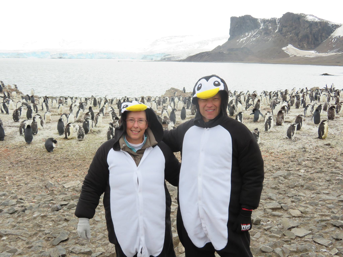 <![endif]><![if !vml]>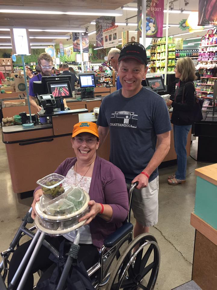 <![endif]>Our major vacation of the year was a cruise to Antarctica – again!  (Our first visit to Antarctica was in 2006.)  One reason for the trip was to celebrate our 30th anniversary; another reason was so Jerry could run a marathon in Antarctica on a cold and windy March day.  We spent the rest of our time there sightseeing.  We saw an amazing number of penguins, seals, and whales.  A great video summary of the trip is available at this Youtube link.
While we had a great time on the trip, it was somewhat bittersweet as my mother died while we were on the ship.  My mother and I had been estranged for many years, but had reconciled near the end of last year.  She was in poor health and unexpectedly passed while we were away.  We held a service in her memory once we returned from the trip.
A week after our return, Nancy had long-planned total knee replacement surgery.  It's amazing
 how quickly recover has proceeded.  Nancy came home from the hospital the day after surgery, and is now back to riding her bicycle outdoors.
Without a doubt, the biggest change is that Nancy is now retired!  She announced her decision after completing her recovery from knee surgery, and has been keeping a full schedule since her last day of work in August.
Jerry is not far behind Nancy however.  IBM offered him a program to work part-time until retirement in March 2018, an offer he quickly accepted.  He has been working just three days a week since July, and is already looking forward to working zero days a week in the very near future!
Did you see the Great American Eclipse this past August?  We did!  Jerry began planning for the eclipse two years earlier.  We knew where the path of totality would be within driving distance, and had hotels booked in five different locations, with plans to choose the best location based on weather forecasts a day or two before the event.  We settled on Knoxville, Tennessee as our base for the long weekend.  On the morning of the eclipse we headed out early with a cooler full of lunch, snacks, and drinks, planning on a long day.  Near the path of totality, on a country two-lane road, we found a Baptist church offering <![if !vml]>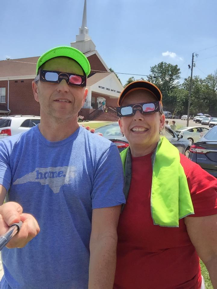 <![endif]>free parking spots and access to their clean indoor bathrooms.  We spent the day there, watching the sliver of sun get smaller and smaller until suddenly a hole opened up in the sky where the sun should have been.  While it was dark, we didn't see stars as some did, but we did hear evening crickets.  It was a once in a lifetime experience – except that we're already planning for the next US eclipse in 2024.
<![if !vml]>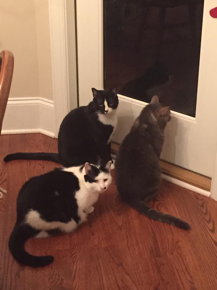 <![endif]>In his spare time, Jerry spent the better part of the hot, humid North Carolina summer running and training for his second marathon of the year.  This marathon wasn't quite as far away as the first in Antarctica -- just four hours away in western North Carolina.  Including race day itself, we made three visits to the area to explore the run course and otherwise do some sightseeing.  Jerry ran his fastest marathon to date.  He nearly qualified for the Boston Marathon, leaving him a goal to work on for 2018.
Nancy's spare time has become filled with volunteer activities.  She recently began volunteering at a local cat shelter called Safe Haven.  So far, she hasn't brought any new cats home, but Jerry is keeping his eyes open for a surprise family addition.  Nancy also served again this year as the race director for the Jingle Bell Run 5k for Arthritis; the event raised over $150,000 for the Arthritis Foundation.  Nancy also organized the collection and repair of used bikes, which were in turn donated to needy families for Christmas.  She has also found a local group to sing with, the Women's Club of Raleigh.  They perform at various functions as well as nursing homes in the area.  She's been a busy girl!
Our final vacation for the year was to New Smyrna Beach, Florida for Thanksgiving week.  It was a week of no plans at all – just wake up each morning and decide what to do for the day.  It was glorious!  The biggest decision each day was where to eat, and whether to walk on the beach vs. ride our bikes.
Our three kitties Jackson, Chaplin, and Spats continue to live with and amuse us.  Chaplin and Spats are in good health, while Jackson is starting to show the effects of advancing age but still demonstrates high spirits, even though he's still terrified of the doorbell.
We hope you had a great year as well and have plans to make 2018 great too.  If we haven't
connected on Facebook yet, please find us there so that we can stay in touch during the year.
Merry Christmas and Happy Holidays!
Nancy and Jerry Canterbury
https://www.facebook.com/jerrylcanterbury
https://www.facebook.com/nancy.canterbury