The Canterburys – Christmas 2018
1997 1998 1999 2000 2001 2002 2003 2004 2005 2006 2007 2008 2009 2010 2011 2012 2013 2014 2015 2016 2017
Hello friends!  It's hard to believe another year has gone by!  2018 has been another interesting year for the Canterburys.
<![if !vml]>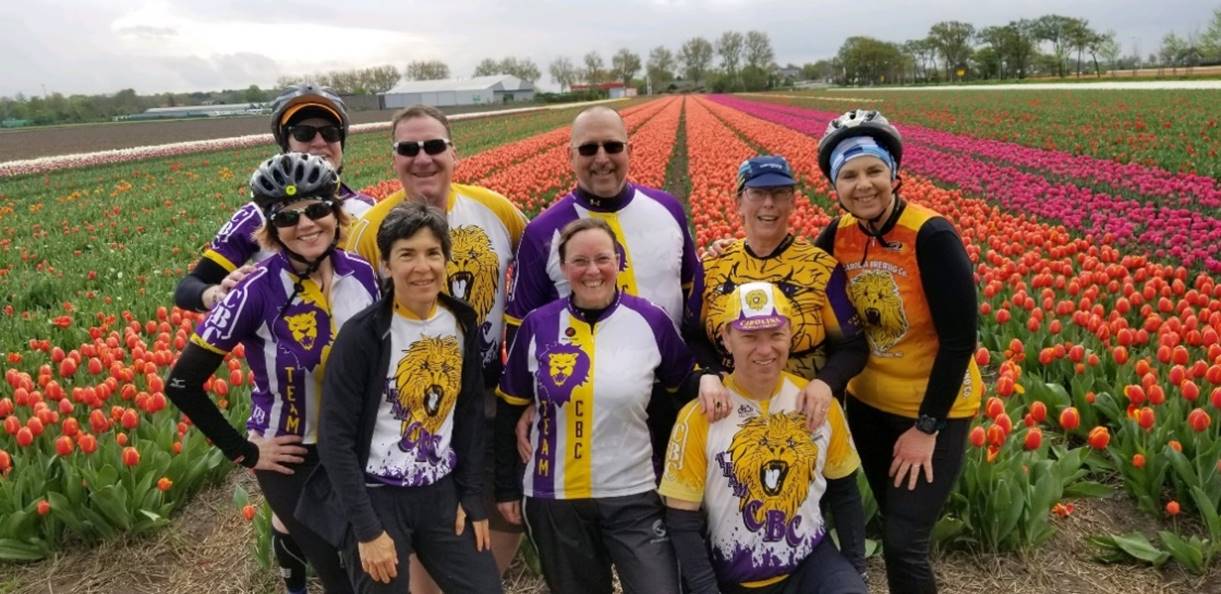 <![endif]>We began the year as we always do, by heading to nearby Jordan Lake for our annual Polar Plunge!  The water only gets down to 50 degrees so it's never too bad.
The year then continued with two milestone birthdays.  Nancy made it to 60 in January, while Jerry achieved 55 in February.  We had a big blowout birthday bash for Nancy's big day!  Then March brought a milestone birthday for Jerry's dad, so we have a surprise party for him which many family members came to town to <![if !vml]>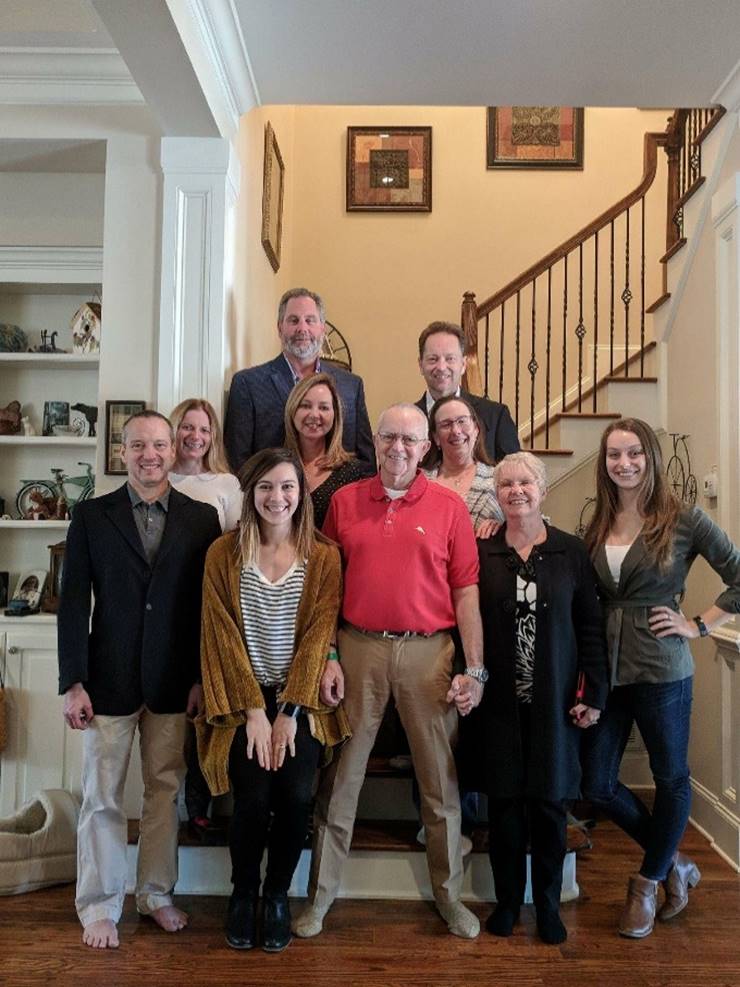 <![endif]>attend.
The biggest change is that after Nancy retired in August 2017, Jerry retired too at the end of March 2018.  Jerry's retirement date was planned for the past two years.  As every retiree always says, we're so busy now we don't know how people with jobs do it all!
Our big vacation for the year for was a trip to the Netherlands for beer and bicycling with a group of friends.  We went in April to see tulips blooming.  The weather was unseasonably cold and drizzly, but we persevered, cycling up to 42 miles each day.  But we made the best of it, visiting Rotterdam, Baarle-Nassau, and Delft on our own then visiting Amsterdam with friends.  We visited the Anne Frank House, the Rijksmuseum, and the Red Light District (look, but don't touch!). Our other big trip was to Washington and Oregon in September.  The purpose of the trip was for Jerry to run the Tunnel Light Marathon, where after years of training Jerry finally ran fast enough to qualify for the Boston Marathon!  (A local run club even published an article about Jerry's experience at the race.)  We also visited friends in the area, toured the Museum of Pop Culture ("MoPOP") in Seattle, and the Columbia River Gorge.  It was a fantastic trip with excellent sightseeing.  We definitely recommend it.
Later in September, Jerry went to Columbus for the annual Ohio State University Marching Band reunion.  This year was special because 100-year-old marching band alumnus Tony Violi was chosen to dot the 'i' in Script Ohio.  Jerry had an outstanding view of Mr. Violi from his own spot in the 'h' of the Script Ohio formation.
<![if !vml]>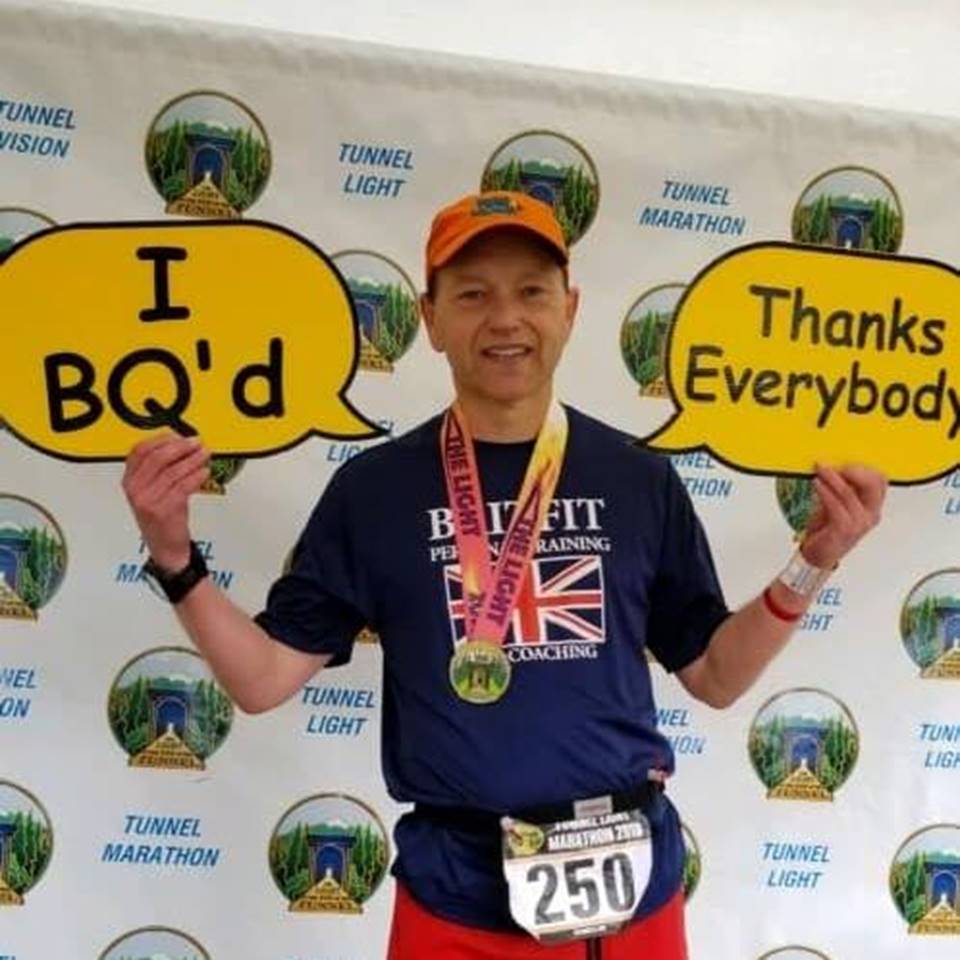 <![endif]>Unfortunately, Nancy couldn't make the trip to Columbus this year because she was recovering from a bout of Transient Global Amnesia (TGA).  Just like in a soap opera, or like the movies 50 First Dates or Memento, Nancy had sudden onset memory loss.  She remembered the basics of her name and Jerry's name, but couldn't remember anything that had happened in the previous two weeks.  If you told her something, ten minutes later she would have forgotten it.  At first, we were concerned it was a stroke but it's really not that at all.  She did spend the night in the hospital and had a lot of very expensive tests completed to confirm she's OK.  TGA is not uncommon, and in most cases it never happens again.  But there is a four-hour block of time that Nancy will never remember.  But again, she's fine now – no lingering effects. She refers to it as the Ultimate Senior Moment!
In November we spent a long weekend in Boston visiting Jerry's brother Bryan, his wife Marni, and their two children.  The additional purpose of the trip was to explore the Boston Marathon course, as both Jerry and Bryan will be running the marathon in April 2019!  This will be the first marathon they've run together.
In December, we visited Florida.  We spent a few days at New Smyrna Beach on the east coast, then a few days at Walt Disney World, before wrapping up in Apollo Beach on the west coast.  Along the way we visited more friends and also escaped an unusual December snowstorm back home on North Carolina.
We made a few other quick trips during the year.  We spent Mother's Day with friends at a bed-and-breakfast in the North Carolina mountains and also visited a number of wineries that weekend.  In June we went to Asheville for a concert followed by a couple days to visit the Biltmore Estate.  On the way home, we visited the Land of Oz amusement park, which is only open a few days per year.  In October we spent a few more days viewing the fall colors in the North Carolina mountains.  In November we visited Charlotte with friends for a weekend.
<![if !vml]>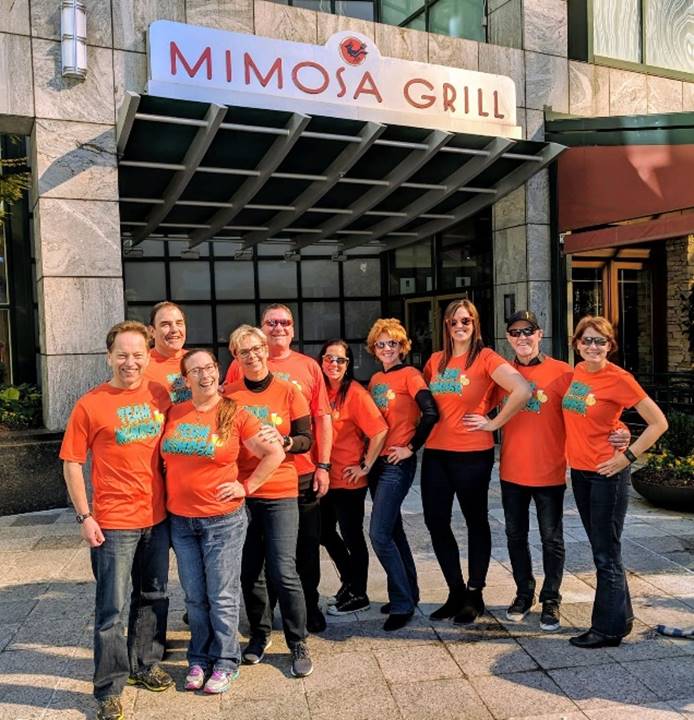 <![endif]>When we're at home, we spend a lot of time with friends.  We also attend shows and concerts.  We have season tickets to the Durham Performing Arts Center (DPAC) which included tickets to Hamilton in November.  We enjoyed it so much that we went back to see it a second time!  We also were invited to the cast party after the first show so got to meet many of the performers and get selfies with them.
Nancy's free time includes singing in three local choirs, including one for which she had to audition – so you know she's a good singer.  Nancy also volunteers at Safe Haven for Cats, a cat rescue shelter.
Speaking of cats, we are now up to four!  We were almost down to two as 13-year-old Jackson became very ill in January, but with a lot of love, attention, and hand-feeding, he's bounced back like a trouper!  Chaplin and Spats are still with us of course.  Tiger is a new addition as of November.  Our neighbor asked us to rescue him as he was hiding on her porch.  We couldn't find his owner, so because he was such a good boy, we decided to adopt him ourselves.  And, Jerry's <![if !vml]>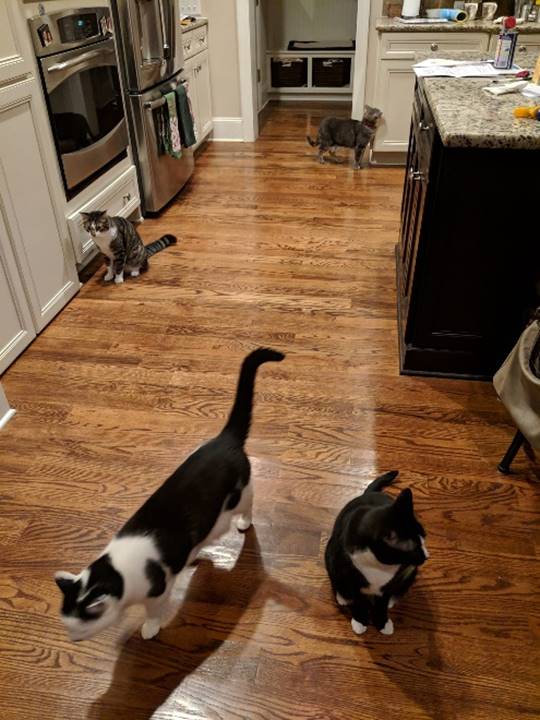 <![endif]>two-cat limit was completely ignored once again!
We hope the holiday season finds you in good health and that 2019 will be a great year for all!  If you haven't connected with us on Facebook yet, we hope you will do so soon.
Merry Christmas and Happy Holidays!
Nancy and Jerry Canterbury
https://www.facebook.com/jerrylcanterbury
https://www.facebook.com/nancy.canterbury