The Canterburys - Christmas 2020
1997 1998 1999 2000 2001 2002 2003 2004 2005 2006 2007 2008 2009 2010 2011 2012 2013 2014 2015 2016 2017 2018 2019
<![if !vml]>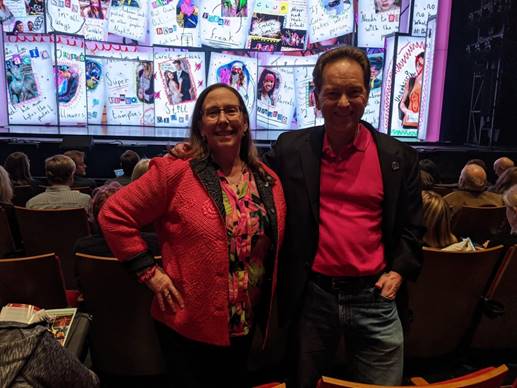 <![endif]>
"On Wednesdays we wear pink!"
In our usual seats at DPAC in February and wearing pink in honor of the line from Mean Girls the musical , back when it was still possible to attend live events.
Merry Christmas and Happy Holidays!
The Canterburys hope that like us, you have made it to the end of this year-like-no-other as healthy and hale as you were when it started.
Where even to begin to provide an update on the kerfuffle we call "2020"? We are fortunate to have emerged largely unscathed, with neither of us falling victim to COVID-19. However, we have had multiple friends come down with the virus, fortunately to bounce back. Sadly, the mother of a friend from Jerry's high school days, a woman Jerry knew well when he was in high school, succumbed to the disease during the early days of the pandemic. We keep the millions of victims of this pandemic in our thoughts, as we know you do as well.
Since we are both retired with no children, the impact of the pandemic has been less for us than for many others. We count ourselves fortunate in that our personal impacts were limited, mostly causing us to cancel travel plans for the year, or have events we planned to attend canceled on us. Yet even so, before everything went south for the year, we were able to do a few things.
We started the year on New Year's Day with our annual polar plunge with friends into chilly Jordan Lake after running a 5k (3.1-mile) race that morning.
We were able to hold our annual Groundhog Day party this year as well, with lots of fun with our friends.
<![if !vml]>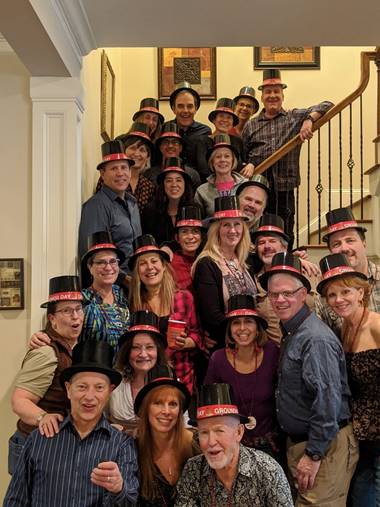 <![endif]>
Happy Groundhog Day!
Our 8th annual Groundhog Day party!
We continue to enjoy our membership at the Durham Performing Arts Center (aka "DPAC") where we saw some excellent shows before the pandemic, including:
| | | |
| --- | --- | --- |
| Come from Away | Rent | Mean Girls |

We also saw a handful of musical concerts in the area.
| | | |
| --- | --- | --- |
| Hillbenders | Postmodern Jukebox | O.A.R. |
Jerry is about two and a half years into a graduate program which leads to a Doctor of Education (Ed.D.) in Leadership degree. The degree is from an accredited online program, so he was able to continue his studies even during the pandemic. He is currently working on his dissertation and should finish the program in another year or so.
While three marathons Jerry had signed up for were canceled, he was able to complete one marathon this year (his 13th overall) as well as his first 50k (31-mile) ultramarathon race.
Nancy is active in local community groups. She is a committee chair for the Women's Club of Raleigh, on the board of directors for the TeamCBC bicycling club, and on the board of directors and fundraising chair for the Cary Community Choir. She also volunteers each week at the SAFE Haven cat rescue shelter.
Nancy also participates in three choirs during the year. The groups were able to switch to Zoom-based practices. One group even performed and recorded selections from the Hallelujah Chorus virtually for the holiday season, their 50th holiday presentation of this classic, which you can watch yourself here:
What did change for us in the pandemic?
Our planned vacations for the year were deferred. May was intended to be a trip to New York City, where one of the choirs in which Nancy is a member was slated to perform in Carnegie Hall. We had also purchased Broadway show tickets for the trip, including for Hamilton, Hadestown, and Come from Away. Such a trip will need to wait for another day.
Our return trip to Alaska in June was also postponed. This trip was centered around a marathon in Anchorage, but once that was postponed, we postponed that trip for a future year as well.
In September, we had plans for a beer-and-bicycling trip to Vermont with the usual members of Team Mimosa. As you have likely surmised, that trip was postponed, especially given quarantine rules in Vermont at the time.
College football season was impacted, with no fan attendance at games, so we missed our annual visit to Columbus, including the Ohio State Marching Band reunion.
We had planned to make our annual pilgrimage to Florida this December but decided against that given the escalating wave of COVID-19 cases.
The list of canceled and postponed shows and concerts this year is extensive. Hopefully, we'll still be able to see these in 2021 and after.
| | | |
| --- | --- | --- |
| The Band's Visit | Cowboy Mouth | Lake Street Dive |
| Escape to Margaritaville | Chicago | My Fair Lady |
| Jesus Christ Superstar | King Crimson | Styx |
| Ain't Too Proud | Wicked | 1776 |
Our four(!) cats continue to live with and amuse us. We had a scare in May when, during the height of lockdown, Spats and Chaplin took turns visiting the emergency veterinarian for urinary tract blockages. It was touch-and-go for a bit but they both came through like champs. They both continue to eat much more than that should despite our best efforts. The emergency vet said regarding Spats that she had never seen such a food-motivated cat!
Chaplin (white) and Spats (tuxedo) have been with us for six years now and are about eight years old. Jackson (gray) is the old man of the clowder at 15 years old, having been with us since he was a kitten. Tiger is the youngest and most active at about four years old.
Please hug all your friends and family this holiday season and tell them you love them! We wish you the happiness and joy you deserve this holiday season!
Nancy and Jerry Canterbury
https://www.facebook.com/jerrylcanterbury
https://www.facebook.com/nancy.canterbury
<![if !vml]>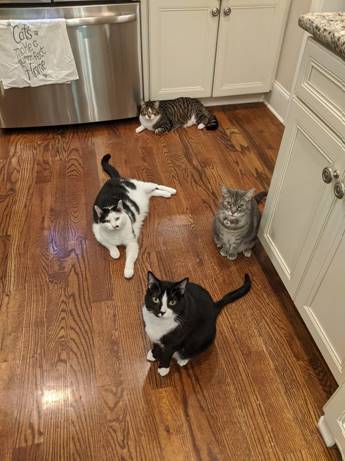 <![endif]>
A rare photo of all four cats together!